Are you looking to boost your XP in Red Dead Online? There are plenty of opportunities to do so this week, especially with Free Roam events. Additionally, there is a new weekly collection, a new Free Aim series, and a ton more.
Red Dead Online XP Boosts
There is a whopping 40% XP boost for a number of modes in Red Dead Online this week. The modes featuring the boost include all Free Roam Events, Free Roam Missions, Bounty Missions, Trader Resupply Missions, A Land of Opportunities Missions, Showdown Modes, and Races. That's basically everything!
Save Some Cash
If you want to expand your enterprises in the Wild West, there are a few ways to save your cash while doing so. Players can save 50% on forming Persistant Posses this week. As an added bonus, all Posse leaders get a bonus treasure map.
That's not all when it comes to discounts this week. All horses and horse tack are 30% off, along with 30% off Gunbelts and weapon metals. Finally, players can take advantage of a 30% discount to change their character's appearance in the player menu this week.
As always, players who connect their Twitch Prime account to their Rockstar Social account get an additional 10% off all the discounts mentioned above, and can get the Bounty Hunter license for free.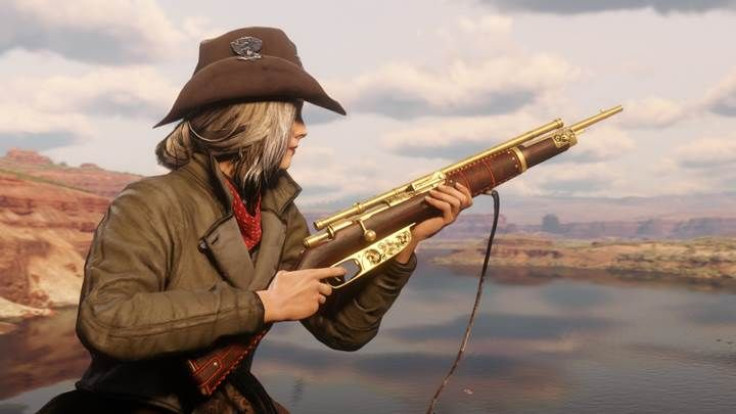 New Stuff
There are a few new additions to Red Dead Online this week, along with some returning content as well. The new content includes a three-piece collection called the Gambler's Choice Collection. This consists of the Ace of Swords, Gran Corazon Madeira, and 1800 Gold Dollar.
A new Free Aim Series is also featured, called Make It Count. In Make It Count, players have to fight off all opponents using only throwing knives and a bow and arrows. As an added challenge, the game area shrinks throughout the round battle royale-style.
As for the returning items, players can once again get the Eberhart Coat, Carver Pants, Cardozo Vest, and more in the Wheeler, Rawson & Co. catalog. If you missed out on these items the first time, now's your chance to get them again for a limited time.
So what do you think? Are you excited to search for the new Gambler's Choice collection? Are you going to buy any of the items that are on sale this week? Let us know your thoughts in the comments section below.