Tom Clancy's Rainbow Six Siege is well into its eighth year of post-launch support from the developer. Ubisoft revealed its plans for Year 8 during the Reveal Panel at the Six Invitational 2023 last February. However, some things have moved around a bit.
Y8S1 Mid-Season Roadmap Update is here and it details all the cool new things you can expect from Rainbow Six Siege in the coming months.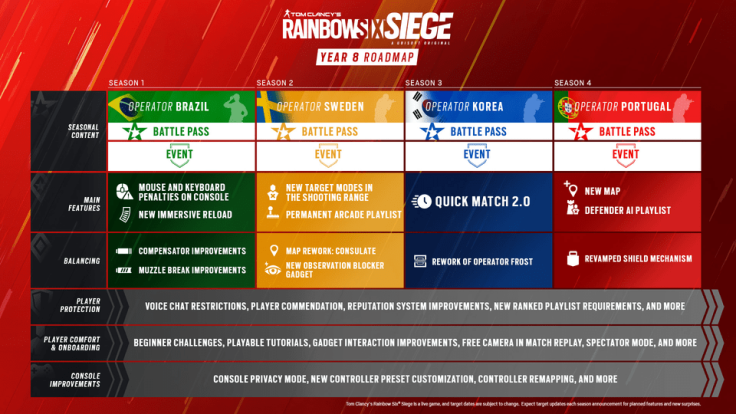 Season 2
Season 2 of Rainbow Six Siege will bring a ton of content, including new modes for players to try out. The much-demanded Permanent Arcade playlist will finally be added, along with new target modes for the Shooting Range.
One of the oldest maps in the game, Consulate, which is also a Ranked map, will be getting a major rework. The developer claims that the rework won't be light touches as the map will be rebuilt from the ground up. A new observation tool, which was promised for Y8S3, will now be released in Season 2. This intel-denying gadget will be a counter to enemy drones.
Season 3
Season 3 will bring the previously announced Frost rework, which will allegedly empower both attackers and defenders. However, players will be the judge of that. The first test of the rework will go live on the Y8S2 LAB Test Server in June. Quick Match 2.0, which was promised for Y8S3, has been reconfirmed to launch in the target window.
New Changes
Season 2 and Season 4 will also bring changes that weren't previously planned. Grim, the intel-gathering attacking operator released in Year 7 Season 3, will be getting major buffs. The first part of the buffs will go live in Y8S2 and the second one in Y8S4. Grim was one of the most underwhelming operators released recently for Siege and failed to have as much impact as the developer had hoped for. Maybe, the planned buffs will change that and make the operator a fan favorite.
You can check out the official post on Steam for more details.
So, what do you think? Are you interested in any of these changes? Have you been playing Rainbow Six Siege recently? Let us know your thoughts in the comments section below.