The Pokémon Sun and Moon anime is really diving into the lore and story of the Alola Region, but longtime fans should get excited for the return of two beloved characters in an upcoming arc of the anime.
According to Serebii , the latest issue of Japan's Telubi-kun magazine reveals that an upcoming two-episode arc of the Pokémon Sun and Moon anime will feature Ash's longtime friends, Brock and Misty.
The issue also reveals that Ash will travel to Kanto for a school project, and the up-and-coming Pokémon Master will visit his old Pokémon at Professor Oak's laboratory along with his aforementioned friends, Brock and Misty.
But it wouldn't be the Pokémon anime if Ash didn't get into some battles, and the magazine promises Ash/Misty and Ash/Brock showdowns. The magazine also reveals Brock will have a Mega Steelix and Misty will have a Mega Gyarados.
Check out the scan from Telubi-kun that shows off the information for the Pokémon Sun and Moon anime.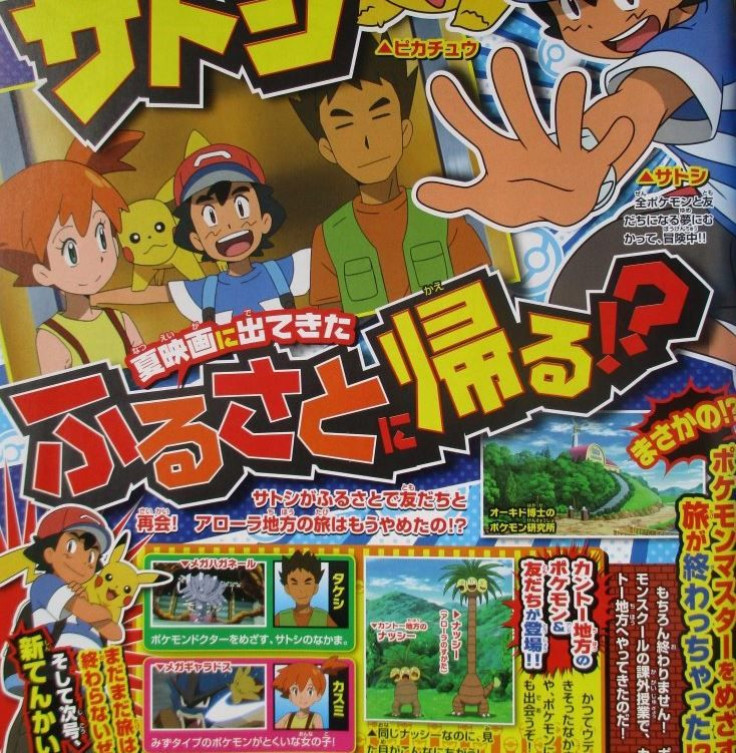 Fans of the Pokémon anime haven't seen either Misty or Brock in some time. The last appearance of Brock came in a special one-off episode in 2011, where he and Cilan team-up in the Johto Region. Brock and Ash haven't shared screen time together since the start of the Pokémon Diamond and Pearl series all the way back in 2010. Misty hasn't appeared in the Pokémon anime since 2005 during the Pokémon Advanced Generations series.
If you're wondering where Brock received his Steelix and Misty her Gyarados, the Onix that Brock used in his first appearance against Ash in the Pewter City Gym was raised to become a Steelix by Brock's younger brother, Forest.
As for Gyarados, the phenomenal Cerulean Blues episode focusing on Misty returning to her sisters in Cerulean City revealed her fear of Gyarados stemmed from her childhood. However, the sisters acquired a Gyarados that was disobedient and were ready to close down the Gym. Misty decided to stay in Cerulean to become its Gym Leader and will eventually gain the Gyarados'' obedience, becoming her most powerful Pokémon.
Where they received the Mega Bracelets and Mega Stones for Gyarados and Steelix will likely be explained in the episodes.
The upcoming two-episode arc featuring Misty and Brock in the Pokémon Sun and Moon anime will air on Sept. 14 and 21.
So what do you think of the news that Misty and Brock will make cameos in the Pokémon Sun and Moon anime? What do you hope to see in the upcoming episodes? Let us know in the comments section below.