After the unsurprising launch of the RTX 3080 Ti, Nvidia is set to launch its next RTX GPU - the RTX 3070 Ti. However, before the GPU's performance could be revealed from official sources, multiple performance previews have already been leaked over the Chinese video portal, Bilibili.
A video posted on YouTube, featuring TecLab or infamously called the Chinese DodgeGuy, showcasing the Gigabyte GeForce RTX 3070 Ti Gaming OC edition being tested. The GPU tested by the content creator sports a custom PCB design. Speaking of power draw, the GPU also uses dual 8-pin connectors as seen on the RTX 3070. On the connectivity front, the GPU offers a triple display port connector and a single HDMI connector.
Another screenshot in the video showed the difference between the RTX 3070 and RTX 3070 Ti, and surprisingly, the difference wasn't significant. But the RTX 3070 Ti will feature 256 additional CUDA cores over RTX 3070 and instead of the GDDR6 memory, the Ti variant will sport the slightly faster GDDR6X memory.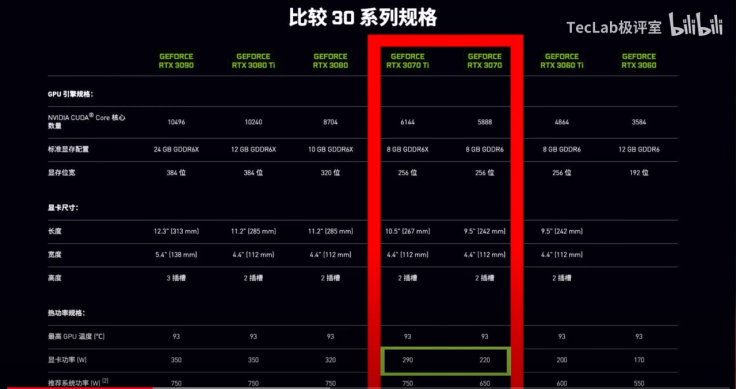 Another Chinese hardware content creator, Big Hardware Player , uploaded a GPU comparison video between RTX 3070, RTX 3070 Ti, and RTX 3080. In the video, the GPUs were compared using a variety of synthetic benchmarking tools. Results showed that RTX 3070 Ti offered only close to a 10% performance boost over RTX 3070. When the content creator benchmarked the GPU on popular video game titles, including GTA 5, Assassin's Creed Valhalla, Shadow of the Tomb Raider, and Cyberpunk 2077, RTX 3070 Ti performed only slightly better than RTX 3070, offering a five to eight higher FPS.
In case you missed it, RTX 3070 Ti was also spotted on the Ashes of Singularity benchmark section. The GPU was paired with the AMD Ryzen 9 3900X and Intel I7-10700KF processors. The GPU managed to score an average of 105 FPS at 1080p, 102 at 1440p, and 90 at 4K on Ryzen 9 3900X. On I7-10700K, however, RTX 3070Ti scored an unimpressive 78 FPS at 1440p and 26 FPS at 4K.
Nvidia RTX 3070 Ti is expected to launch on June 10 for around $599.