Despite the lack of GPUs on store shelves, Nvidia seems to be putting out new variants of its newly released RTX 3000 series. According to recent leaks, it appears that Nvidia is planning to launch the "Ti" variants of the RTX 3070 and RTX 3080 graphics cards.
The leak comes from the renowned graphics card website, Videocardz, which shared an image of a GA102-225 GPU that is supposed to be used in the RTX 3080Ti. Interestingly, a variant of the same chip was used in Nvidia's flagship RTX 3090 GPU, the GA102-300 to be specific. However, unlike the RTX 3090, the RTX 3080Ti is packing 10,240 CUDA cores and 12 GB of VRAM. While the RTX 3080Ti is pretty similar to the RTX 3090, in terms of specifications besides memory, the GPU is said to be quite cheaper than the monstrous 3090, which features 24 GB of VRAM.
The information shared by the website also highlights that the RTX 3080Ti will be running at a base clock of 1,365 MHz with a boost clock of 1,665 Mhz. For the sake of comparison, the RTX 3090 runs at a base clock of 1,410 MHz with a boost clock of 1,740 MHz. This new chip variant could align with Nvidia's recent tactic of preventing miners from using Nvidia GPUs to mine Ethereum. According to XDA Developers, the recent changes made to the chip works against miners by halving the hash rate. The most interesting part about the alleged RTX 3080Ti is that it's said to be available for around $1,200, about $300 cheaper than the RTX 3090.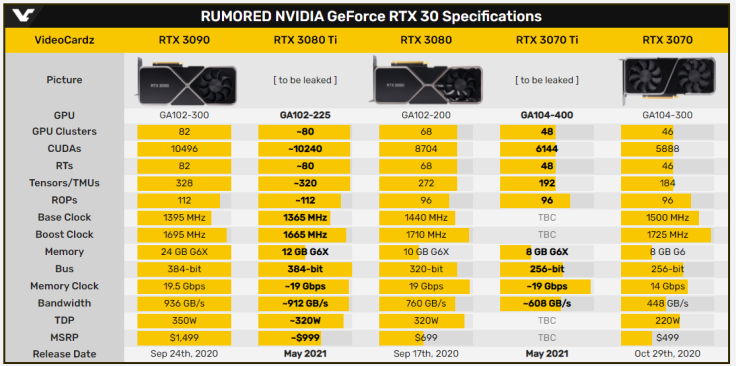 While all this information definitely sounds exciting to gamers, the real challenge is getting one of these GPUs at the marketed price. Given the GPU shortage that's been plaguing the world at the moment, it doesn't seem quite likely to get a hold of any of these new cards at a marketed price even if miners don't go for it.
The RTX 3080Ti is expected to launch next month, but you'll be lucky if you get your hands on this GPU before 2022.