The latest patch for MultiVersus is filled with exciting stuff indeed! Aside from the new love-themed skins courtesy of the ValentiNeon event, the most recent update also features the return of Ranked Mode.
A competitive fighting game like MultiVersus will not be complete without some sort of high-stakes tournament. That's why it's nice to see that Player First Games has finally re-introduced Ranked Mode in MultiVersus via the latest patch.
The premise of Ranked Mode is the same as other fighting games. You'll start without a rank and you can climb up to the Grand Master just by winning games. Earn enough Ranked Points (RP) to get promoted to the higher tier. You can also choose to fight others in 1v1 or 2v2 format.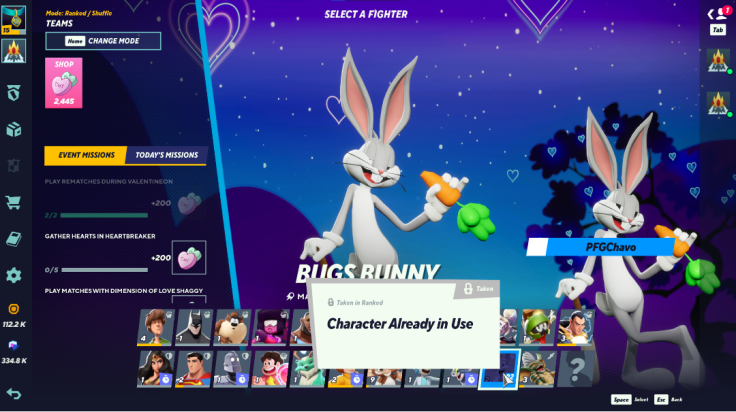 While Ranked Mode is mostly the same as before, it did receive some notable changes this time around. First, Ranked will now be played on competitive-focused maps with hazards disabled, such as the Batcave, Sky Arena, and Throne Room, to name a few.
Second, it is no longer possible to have duplicate characters in 2v2. And third, you can earn the limited-time currency Candy Hearts every time you climb up a tier. You can obtain more as you reach the upper echelons!
Another thing worth mentioning about the latest patch is that it adds support for multiple keyboards on Steam. This means that you can plug up to four different keyboards into your PC and MultiVersus will recognize them all without a hitch.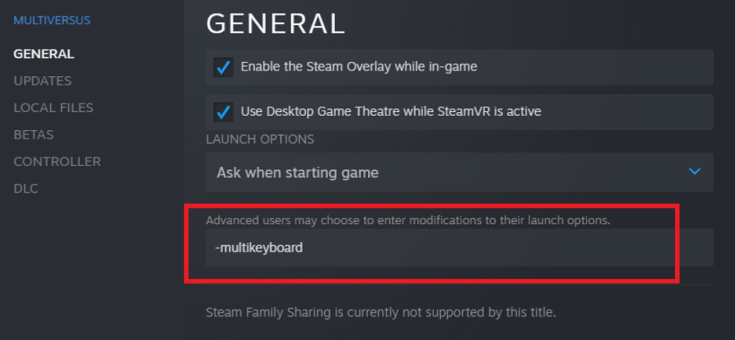 Patch Notes
NEW FEATURES
Silly Queue Game Mode (Heart Breaker Mode)

Love is in the air! Heart Breaker Mode is now available in Silly Queue! Heart collectibles will spawn across the battlefield, so try to gather as many as you can! When you reach max stacks, you'll be able to perform the powerful Heart Wave Attack dealing damage to enemies around you! Show them the power of love!

Be warned though, taking knockback from an enemy will cause you to lose a heart, so be wary of any Heart Stealer

Multikeyboard Native Support (Steam)

To enable:

Right-Click on MultiVersus in your Steam Library and select Properties.

Then enter "-multikeyboard" as the modification in the 'launch options' field.

Developer's Note: This new version of multikeyboard support is still undergoing development, so as always, we welcome any feedback on this feature!
GENERAL GAMEPLAY CHANGES
2D Hitboxes

A number of characters have had their hitboxes converted from 3D to 2D. Characters with 2D hitboxes enabled should see improved Hitbox reliability and no whiffing on the Z-Axis. These characters may also have minor hitbox size adjustments that are not listed in their character patch notes.

Attack Decay

Attack VFX for all moves now transition from colored to gray when used in succession to aid in better indicating incoming attack decay.

Dodge Meter

Dodge Meter for all fighters is now visible for all players in an online match! The location of the dodge meter can be adjusted in the Settings menu.

Dodge Jumps

Dodge Jumping now removes any remaining dodge invulnerability when beginning the jump. This does not apply to respawn invulnerability.

Invulnerability

Receiving invulnerability from multiple sources now properly stacks. This will most notably fix issues where Bugs Bunny could receive knockback while in his tunnel.
So, are you going to play Ranked Mode in MultiVersus soon?