Kingdom Hearts 3 was the star of D23 Japan last week, where two trailers debuted a brand-new world and the game's theme song. The end of the clips suggested the project is on track for a 2018 release date, but statements made by Director Tetsuya Nomura in the latest issue of Famitsu cast doubt on that release window.
As translated by KHInsider, Nomura revealed that Kingdom Hearts 3 consists of about 10 worlds split into three sections. The first section, which includes Toy Story and Monsters, Inc., is reportedly 90 percent complete. The second half is only 60 to 70 percent finished, and no stat was revealed regarding the status of the third section.
There's still lots of work to be done if Square Enix intends for Kingdom Hearts 3 to hit stores this year. If the majority of the game's worlds are only a little more than halfway complete, that sounds like a tall order to fill by September when the holiday game season begins. Even November looks like a stretch.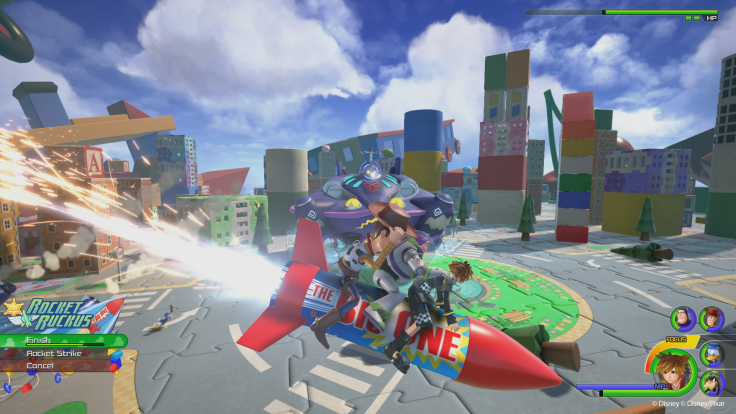 That's especially true when you consider how long it took Nomura's team just to get to this point. Engine changes and a focus on Final Fantasy XV had a major impact on Kingdom Hearts 3's six-year development cycle at Square Enix, but it's also abundantly clear Nomura pays extreme attention to detail. His projects have almost never gone quickly, certainly not quickly enough to finish the majority of Kingdom Hearts 3's 10 worlds in a few months. In fact, we're not even sure if his number is limited to Disney-themed worlds or every world in the game. If it's the former, a delay to 2019 sounds even more likely.
Square Enix Japan has a recent history with game delays. Despite holding an event to announce that Final Fantasy XV would release in September, the finished product shipped in late November, after nearly a decade in development. There's always room for error when using translations as a source, but Square hasn't necessarily earned the right to be trusted when it comes to projected release dates.
Without any official knowledge of the inner workings of Square Enix, we'll never know how complete Kingdom Hearts 3 truly is. However, these statements don't offer much reason for optimism. While the company has not announced a delay beyond 2018, it certainly seems like a possibility.
Elsewhere in the Famitsu story, Co-director Tai Yasue mentioned a rare from of Heartless based on Japanese pudding. Nomura also said he's excited to work on a segment of the game that calls back to the 1933 Disney short, Giantland, and he teased a deeper Gummi Ship experience with rich cosmetic customization.
Kingdom Hearts 3 is scheduled to release in 2018 on PS4 and Xbox One. Read our analysis of the D23 trailers here.
Do you think Kingdom Hearts 3 will make its 2018 release date based on these comments? Tell us in the comments section!