A few days ago, it was revealed that almost all of the Kingdom Hearts game will be coming to PC. The collection will drop on March 30 on Epic Games Store. The only thing that fans were waiting for was the official PC system requirements, and now, we finally have that information.
The system requirements got revealed on the Epic Games Store page, and thankfully, they aren't that high. Given that the game is made with Unreal Engine 4, all of us expected that.
Minimum Requirements
Kingdom Hearts 3 will only support Windows 10 64-bit, it also has to be v1909 or above. To run the game on minimum settings, you will need either Intel Core i5 3330 at 3.0 GHz with 4 cores/4 threads or AMD Ryzen 3 1200 at 3.1GHz with 4 cores/4 threads paired with NVIDIA GeForce GTX 760 or AMD Radeon R7 260X, with either GPU having at least 2 GB of VRAM. The game will require 8 GB of RAM and 75 GB of free storage space. DirectX 11 must be supported too.
Recommended Requirements
For recommended settings, the requirements are a tad high. The CPU requirement is increased to either Intel Core i5 7500 at 3.4 GHz with 4 cores/4 threads or AMD Ryzen 3 3100 at 3.1 GHz with 4 cores/8 threads. GPU requirements are raised to NVIDIA GeForce GTX 1070 or AMD Radeon RX Vega 56, with either GPU having at least 8GB of VRAM. RAM and free storage space requirements remain the same.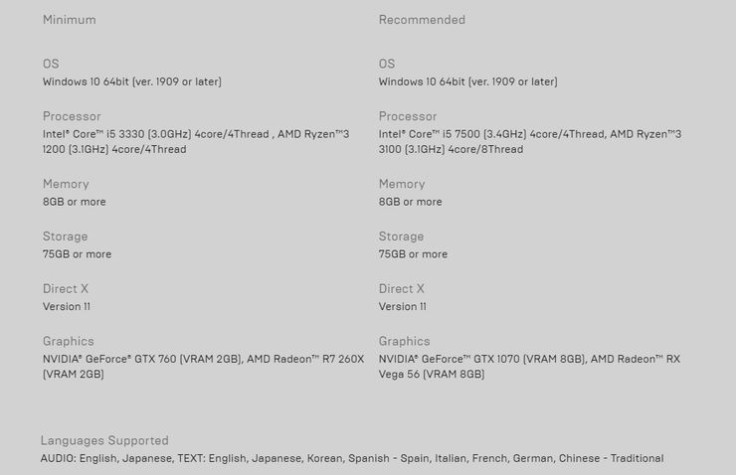 As mentioned above, you can purchase Kingdom Hearts 3 on Epic Games Store for $60. The game will come with the Re Mind DLC.
Key features include:
Exclusive new "Element Encoder" Keyblade with purchase
Adventure in Disney and Pixar Worlds
Unlock the Power of the Keyblades
Relive Classic Disney Shorts Through Minigames
Includes Re Mind (DLC)
So what do you think? Are you excited for Kingdom Hearts 3 on PC? Will you preorder the game or not? Let us know your thoughts in the comments section below.