A new update is now available for the PvE survival game ICARUS. The Week 65 update finally adds several new features long-requested by the community, including Compass Mark pins for easier navigation, the ability to search for icons when adding text to small wooden signs, and search bars in the talent, blueprint, workshop, and mission screen UI to highlight any items that players might want to see immediately.
Furthermore, a new button has been added that puts whatever items are in the player's inventory and stacks them inside a container with a matching item already present with just a single click. For example, players can place all iron ores in their inventory and place them inside a container just by clicking the "Add to Stacks" button situated at the bottom left of the UI.
What Lies Ahead
Developer Rocketwerkz has been pretty consistent with releasing new content for ICARUS. In fact, players can expect something new every week; whether it be fixes or something entirely different like the salt station introduced not long ago.
While the update cadence has not changed, Rocketwerkz released a roadmap to give players an idea of what the company is currently working on in terms of new features.
Right now, the company is busy developing the game's fishing system, bestiary system, and achievements. These larger feature updates contain new content, huge balancing changes, and substantial improvements. Rocketwerkz intends to release them between two and three months with some flexibility if needed.
Speaking of new content, the next paid DLC will be called New Frontiers. The company said that it will feature a new map, biomes, creatures, and missions. More details will be shared soon, so be sure to come back for more information.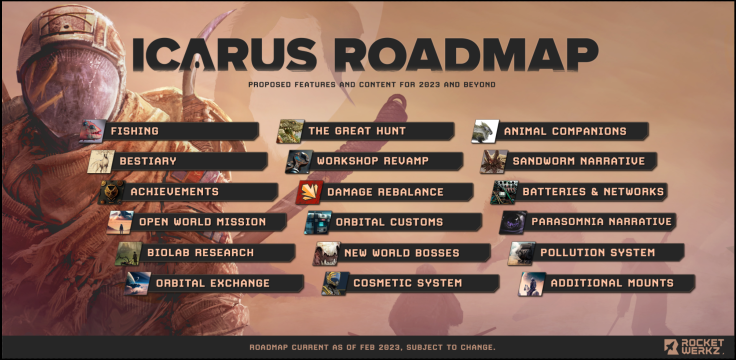 Changelog
NEW CONTENT
Map Icons are now displayed on compass by default.

Made compass function that checks for map icon updates more performant.

Added Tusk to Crushed Bone recipe to Material Processor

Map exploration fog is now used with open world prospects

Added more logging to track the cause of bad voxel states on dedicated servers

Adjusting Search Bar locations and widget visuals so its clearer
FIXED
Fixed bug where compass icons wouldn't show up if they were using the default color

Fixed issue where compass icon visibility wasn't updated to the correct state if the linked map icon hadn't been rendered yet.

Dropship map icon now waits for valid ownership before initializing, and is only initialized on the local owner

Fixed Dynamic Collect mission not stopping audio for clients when the ID tag is collected

Explored map fog is now correctly loaded on clients. This data is now moved into the appropriate PlayerData folder on load and should then be backed up by cloud saves

DYNAMIC missions: Slightly reduced maximum range of all missions, further reduced this range on harder difficulties.

Removed the option to salt spoiled food items at the salting bench.
ICARUS Week 65 Update is available on PC