ICARUS is a session-based survival game where every second counts. In its latest update, developers make a fundamental change to the timer. It also adds new mission difficulty options and some changes to the temperature system, among others.
Timer Change
One of the biggest changes in the Week 17 content update is that ICARUS will now use the in-game timer instead of real-world time. For context, the devs wanted the game to be as realistic as possible while also providing some sense of urgency. According to them, using real-world time proved to be too restrictive for most people, especially those who lead busy lives.
The shift to using in-game time is huge since the timer for a prospect (or mission) will only start as soon as you are on it. If you change to another character, the timer for the last one won't continue unless you or a friend are actively playing on that particular prospect.
As a result of this change, all existing prospects will have their timers refreshed.
New Difficulty Options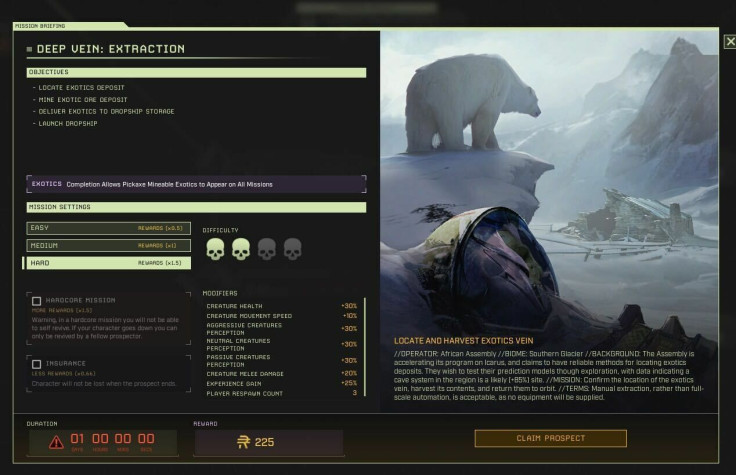 Another huge change in this patch is that new mission difficulty variations are here. You can choose from any of the following: Easy, Medium, Hard, and Hardcore. The harder the difficulty, the better the rewards.
If you are still starting out in ICARUS, you could set the level to easy. Medium is the base difficulty, while Hard is for those who want a challenging experience. Hardcore means going off the charts, especially with zero respawns. Sticking together with your teammates is a must on Hardcore difficulty.
Changelog
Added new Larkwell items: Axe, Pickaxe, Hammer, Sickle, Knife, Spear

Added new mission: Canyon: Stockpile 2

Fixed New Temperature System:

Frostnip - Heatstroke occurs after 5 minutes in cold at a 10% chance every 2 minutes thereafter

While in Grace Period, Players are no longer affected by temperature afflictions

Resistances now shift the safe zones

Added new stats for direction temperature shift via modifiers (both internal and external)

Another Pass on Armor to adjust to the new system

Small adjustment to safe zone base definitions on the player

External temp shown on UI now takes into account water or wet external sources

Revised meshes and textures for metal ingot items

Changed the prospect text from friends to steam friends only to make things clearer

Added a button to watch the No Rescue video on the title screen

Added max retry count to prospect expiry request to the backend

Fixed grenade ballistic settings so that it doesn't launch upright

Fixed memory dependencies caused by the sprinkler system

Fixed memory dependencies caused by light slot items

Fixed memory dependencies caused by weapons

Fixed Heat Bandage having same mesh as Basic Bandage
ICARUS Week 17 content update is available on PC.