Halo Infinite might feature an amazing game mode. And no, we are not talking about yet another Battle Royale mode, as rumored previously. If the recent leaks are to be believed, you can expect a Big Team Battle 2.0 mode in Infinite.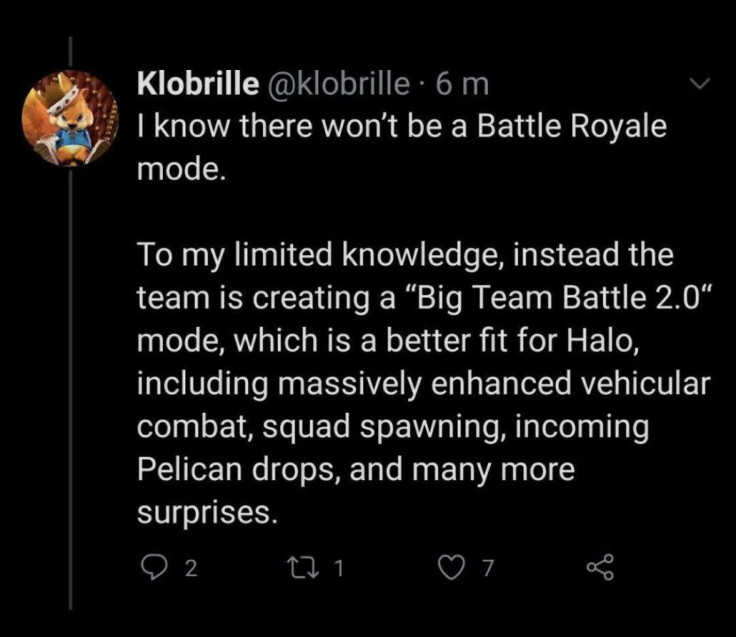 The information was revealed by Klobrille, a trusted Microsoft insider who has been accurate in the past. He claimed in a now-deleted tweet that Halo: Infinite will not feature a Battle Royale mode. Instead, there will be a special Big Team Battle mode. This mode will contain squad spawning, pelican drops, and enhanced vehicular combat.
The supposed mode makes sense because Halo games are filled with stunning vehicles. Klobrille also confirmed that the Forge mode will also be "massively expanded." So even if Battle Royale mode is not present, players can just create it on their own. Keep in mind that all of these are just unsubstantial rumors, so don't start making any bets. However, Klobrille has been accurate in the past. As such, there might be some merit to his claims.
Halo Infinite is the most important upcoming game by Microsoft. The company has already stated that they want to expand Halo Infinite for the next ten years. Thus, getting it right the first time is a must. 343 Industries' previous Halo game, Halo 5 is hated by the community for good reasons. This is their one chance for redemption.
Halo Infinite's official gameplay video was revealed back in July. While players liked the open-world approach of the game, there was some criticism toward the visuals. Infinite is reckoned to be a next-gen game that shows off the power of Xbox Series X. The graphics of the title left many fans underwhelmed. 343 Industries have also stated that they will work on improving the visuals and the recent delay will definitely help.
Halo Infinite will now launch in late 2021. The game has been delayed by a whole year. After the Cyberpunk 2077 launch fiasco, this doesn't seem that bad. Take all the time you need 343, just don't mess it up.