Halo Infinite got its final content patch of the year. The December 2022 Update introduces a ton of new things, including the Custom Game Browser and aim assist for mouse and keyboard users.
Custom Game Browser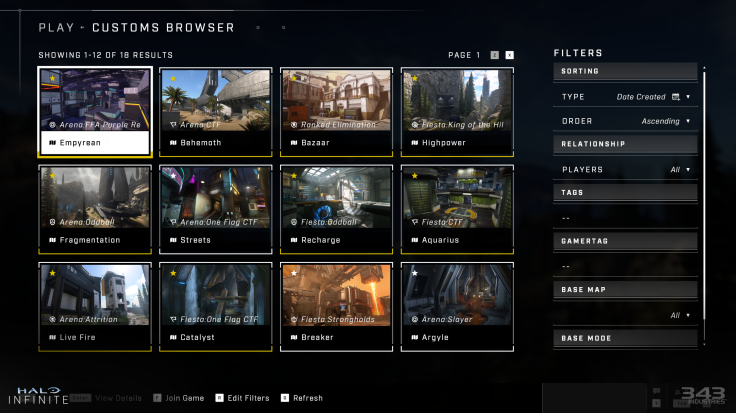 In a previous update, developer 343 Industries added the highly anticipated Forge Mode to Halo Infinite - a feature that allows players to create their own custom maps using Halo 's vast game assets.
Now that Forge Mode has had time to mature, the company added the Custom Game Browser (CGB) in the December 2022 Update. This feature gives players the ability to browse and join custom games. What's cool about it is that they can engage in content made in Forge Mode as well.
Viewing current sessions in the Custom Game Browser is easy. Players just have to navigate to the Community tab, select "Customs Browser," and then use the appropriate filters as they see fit.
Conversely, players can create a custom game session by changing the privacy setting in the Lobby Options to open, allowing other people to join in as they please.
Aim Assist for MnK
343 Industries has also implemented a number of improvements for mouse and keyboard users. One of the most notable is the addition of aim assist, where the crosshair follows the target as much as possible without much user input. In fact, its implementation in Halo Infinite is quite aggressive as evidenced by this video.
Aside from that, there's now a dedicated walk button with additional options so that players can tailor it to their liking.
Notable Issues
While the above-mentioned features are great on paper, some Halo Infinite players have encountered bugs that must be ironed out.
The Custom Game Browser is still quite buggy at the moment, with a Redditor revealing that the custom match they joined was stuck in the loading screen forever. So much so that they had to use the nifty Alt + F4 combo just to exit the game. This is seconded by another user who said that CGB just doesn't function properly, citing that they couldn't see or join any match at all.
Even though aim assist for MnK is helpful in some situations, there are people who do not like it. Unfortunately, there's no way to disable it at this time. Hopefully, the company can add this option soon.
You can read the patch notes for the December 2022 Update on the game's official website.
So, have you tried the features mentioned above? How was your experience? Halo Infinite is available on Xbox One, Xbox Series X/S, and PC.