This week in GTA Online, it's all about the Stunt Series as these events are handing out 2X GTA$ & RP. Remember to buckle up for safety, but do it fast as this offer is only available until December 11.
Meanwhile at the Lucky Wheel this week, the top prize is none other than the Vapid Flash GT. This sports car can help you haul those groceries while at the same making things easy should you decide to go off-road. If you think you're not that lucky, still take the time to visit the Diamond Casino & Resort as you can also win GTA$, RP, clothing items and more with your free daily spins.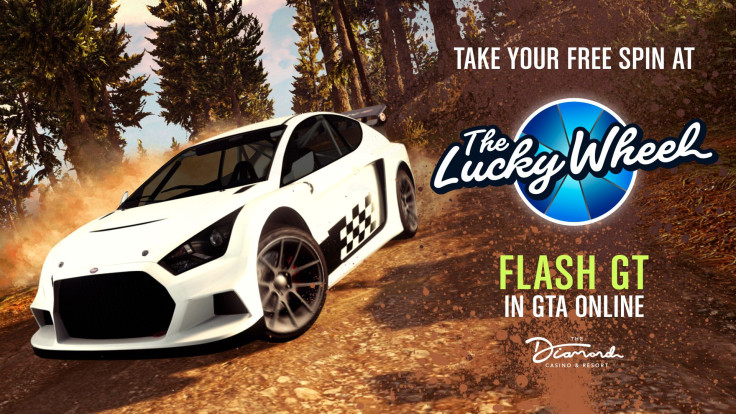 Once you're done spinning the Lucky Wheel, it's time to head out to the Casino Store in the lobby of The Diamond Casino & Resort and get your hands on some indecipherable contemporary art or even an expensive designer sweatshirt. No matter what your pick, they both show the same indifference toward one's wealth.
This Week's Discounts
Discounts continue this week with the items marked down including a wide range of vehicles going as high as 40% off. We have the complete list below:
Vehicles:

Annis S80RR (Super) – 35% Off
Truffade Thrax (Super) – 25% Off
Progen GP1 (Super) – 40% Off
Annis RE-7B (Super) – 35% Off
Emperor ETR1 (Super) – 40% Off
Vapid GB200 (Sports) – 40% Off
Coil Rocket Voltic (Special Vehicle) – 35% Off
Annis Elegy Retro Custom (Sports) – 35% Off
Declasse Hotring Sabre (Sports) – 40% Off
Obey Omnis (Sports) – 40% Off

Customization Options:

Liveries – 40% off
Brakes & Handling – 40% off
Engine Upgrades – 40% off
Turbo – 40% off
Transmission – 40% off
Suspension – 40% off
New discounts offered.

Rockstar Games
Twitch Prime Bonuses
This week, Twitch Prime members who manage to have their Twitch account linked with their Rockstar Games Social Club account can buy the Fort Zancudo Hangar 3499 and the Lago Zancudo Bunker while receiving a full rebate on the base property after purchase. They also get 80% off the Benefactor Schlagen GT and the Grotti Itali GTO, along with extra 10% off all of this week's vehicle and upgrade discounts. To be able to avail of more benefits in the future, be sure to visit Twitch Prime and sign up.