This week in GTA Online the spotlight is on Adversary Modes. That means it's time for players to be part of the good old fashioned kill-or-be-killed scenario. However it's not just about fighting to survive as Motor Wars is all set to dish out Triple Rewards. This mode is not for the faint of heart, as players must be willing to drop into a warzone armed with nothing but their pistol and wits.
If survival isn't your thing and you want something where you can destroy an opposing team, then for Hardest Target. This week it's going to pay out 2X GTA$ & RP for a limited time. Power Play is handing out the same rewards as well.
For those who want the more white-collar type of crimes, Business Battles is offering Double Rewards as well as VIP/CEO Work and Challenges. This week also has Associates earn a Doubled Salary.
Podium Vehicle
This week the Diamond Casino & Resort offers the usual chance to spin the daily Lucky Wheel and win GTA$, RP, clothing and more. The top prize this week is the Benefactor Krieger. For those not familiar, this is a German hypercar with too much power for its own good.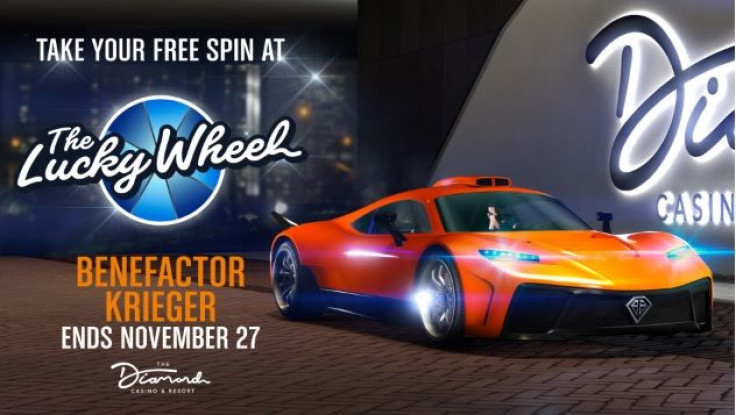 Pegassi Sale & Discounts
For this week, Pegassi is offering special manufacturer discounts across a wide range of vehicles, which features some of their most coveted high-performance rides.
Pegassi Sale:

Oppressor – 35% off
Tezeract (Super) – 35% off
Zentorno (Super) – 35% off
Infernus (Super) – 35% off
Infernus Classic (Sports Classic) – 35% off
Monroe (Sports Classic) – 35% off
Osiris (Super) – 35% off
Reaper (Super) – 35% off
Tempesta (Super) – 35% off
Torero (Sports Classic) – 35% off
Vacca (Super) – 35% off
Bati 801 Motorcycles (both variants) – 35% off
FCR1000 Motorcycle (both variants) – 35% off

Properties and More:

Executive Offices – 40% off
Executive Office Renovations – 40% off
Executive Office Garages, Add-Ons & Renovations – 40% off
Special Cargo Warehouses – 50% off
All Liveries – 40% off
Twitch Prime Benefits
As always, Twitch Prime members that have their Twitch account linked with their Rockstar Games Social Club account get the chance to buy the Lago Zancudo Bunker and Fort Zancudo Hangar 3499 through their iFruit for a full rebate on the base property after purchase, as well as an additional 10% off all of the vehicle and real estate discounts listed above on top of 60% off the Terrorbyte. To be able to get access to future GTA Online benefits, make sure to visit Twitch Prime and sign up.