Ghost of Tsushima finally has a release date! The game will launch on June 2 and will be a PlayStation 4 exclusive. Publisher Sony Interactive Entertainment also released a brand new story trailer which you can watch below.
Ghost of Tsushima is an open-world action-adventure game developed by Sucker Punch Productions. This is the same studio that made every Infamous game. In Ghosts of Tsushima, you follow the story of the game's protagonist, Jin Sankai, where your objective is to protect people from the Mongol invaders.
You can read the official synopsis of Ghost of Tsushima below, courtesy of the PSN Store.
"In the late 13th century, the Mongol empire has laid waste to entire nations along their campaign to conquer the East. Tsushima Island is all that stands between mainland Japan and a massive Mongol invasion fleet led by the ruthless and cunning general, Khotun Khan. As the island burns in the wake of the first wave of the Mongol assault, samurai warrior Jin Sakai stands as one of the last surviving members of his clan. He is resolved do whatever it takes, at any cost, to protect his people and reclaim his home. He must set aside the traditions that have shaped him as a warrior to forge a new path, the path of the Ghost, and wage an unconventional war for the freedom of Tsushima."
The above trailer also introduced us to two new characters. Players will spend some time with the lord of Tsushima, who is also your uncle and has trained you as a Samurai. The antagonist is the leader of the Mongol army, Khotun Khan. After losing the battle, Jin will forsake his previous training and become a new type of warrior.
Players will have access to a wide range of gadgets in Ghost of Tsushima, including weapons such as a katana for combat. A grappling hook is also available that will help you traverse the more difficult areas of the map. You can also duel against other NPCs or choose to completely avoid it.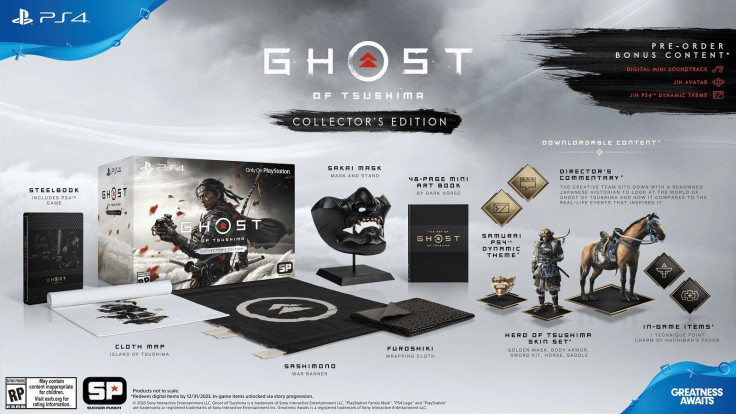 Sony has also announced multiple editions of the game. The Special Edition and Digital Deluxe Edition cost $69.99 each, and will offer some digital goodies. There is also a Collector's Edition that comes with both digital and physical goodies. The Collector's Edition costs $169.99. You can learn more about different editions on the official PlayStation site.
So what do you think? Are you excited about Ghost of Tsushima? Will you pre-order the game or wait for reviews? Let us know your thoughts in the comments section below.