Fire Emblem Warriors for Nintendo Switch and 3DS is about to receive its second DLC pack, just in time for Valentine's Day.The second Fire Emblem Warriors DLC pack arrives Feb. 14, at 7 p.m. EST, and will include new skills, support conversations, costumes, weapon and weapon attributes, and more.
This for Fire Emblem Warriors DLC pack is inspired by the classic Nintendo DS game, Fire Emblem: Shadow Dragon. Here's a rundown of everything that will be included in the expansion:
New Skills : Lone Wolf, Quick Wit and Minerva's Iote's Shield, which cancels any enemy effectiveness.
New History Maps : Princess Minerva Map, Knorda Market Map and the Brush in Teeth Map.
New Support Conversations
New Costumes : Lyn's Swordmaster costume, as well as costumes for Marth, Caeda and Tiki.
New Armor Break Models
New Weapons / Weapon Attributes : New weapons include Caeda's Wing Spear, Linde's Aura, Navarre's Wo Dao, Minerva's Hauteclere, Tiki's Divinestone and Anna's Bow. New weapon attributes include the ability to swap attack and defense, as well as inflict additional damage against characters with the same or opposite gender.
The characters that will receive Armor Break models were not disclosed, but a recent leak of the DLC content from Famitsu confirmed that Tiki, Celica and Lyn will be the ones who will receive these updated costumes.
In the same leak, the new costumes for Marth, Caeda and Tiki will have the three warriors dressed up in wedding attire. Caeda will be in a wedding dress while Marth dons a white tuxedo and Tiki is dressed like a flower girl.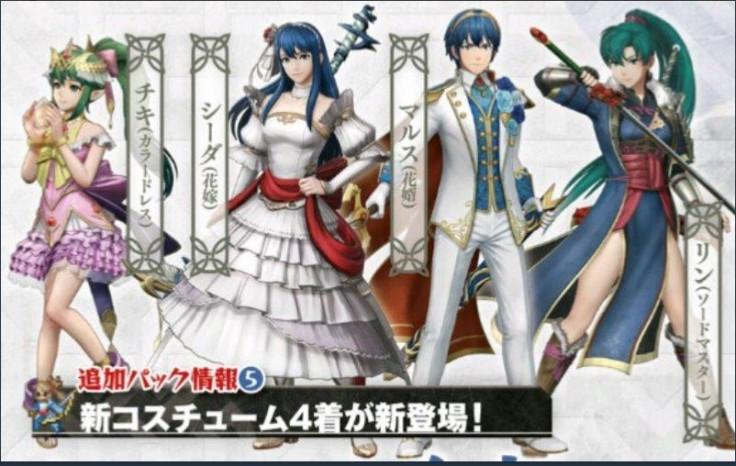 The latest FIre Emblem Warriors DLC Pack can be purchased for $8.99, but a Season Pass, which includes this DLC Pack, the first DLC Pack released in December, as well the upcoming third DLC Pack launching in March, can be purchased for $19.99. The full version of the game is required to access and play the DLC.
Fire Emblem Warriors is available now for Nintendo Switch and 3DS.
So what do you think of the latest DLC for Fire Emblem Warriors? Who is your favorite character to use in the game? Let us know in the comments section below.
Fire Emblem Warriors Review: Much More Than Button Mashing
Fire Emblem Warriors is more than just your typical hack-slash, button-mashing affair. While the action and over-the-top combos are highly entertaining, the real joys of this game are the Fire Emblem mechanics and the strategy that goes along with it.
Action-packed
Layers of strategy
Just the right difficulty
Story is thin
Map UI
AI needs constant commands