The latest update for Final Fantasy XIV adds new quests for players to complete. Patch 6.15 also introduces a new mount.
New Quests
Before anything, beast tribe quests in Final Fantasy XIV are now known as tribal quests. That said, there are new Arkasodara tribal main quests that players can complete. The first one is called "Hippos Born to Run'' and completing this will not only unlock the other quests in the chain but the Arkasodara daily quests as well.
It is worth noting that the quests in Arkasodara employ an automatic level adjustment system known as quest sync. What this means is that the difficulty of battles will be adjusted to the player's current job and class levels.
Those who love Hildibrand will be happy to know that he is back in Patch 6.15 with more adventures. Players can find him at the Radz-at-Han on the isle of Thavnair.
Patch 6.15 offers other new things as well. One of the most notable is the Hippo Cart Mount, which can be acquired by gaining enough reputation and Pana currency from the Arkasodara.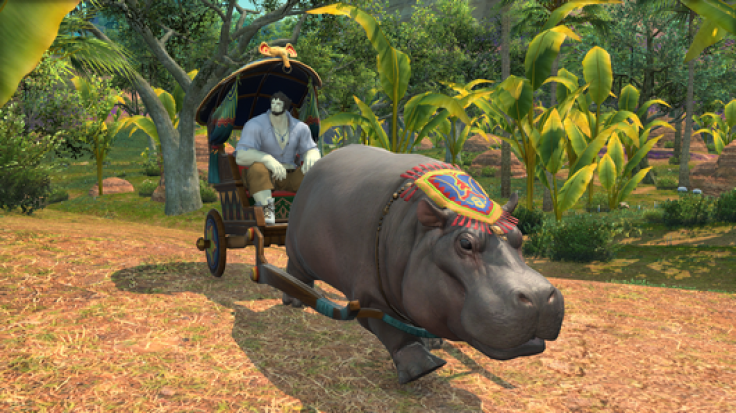 Patch Notes
QUESTS
Chronicles of the New Era

Tataru's Grand Endeavor

Custom Deliveries

Players can now speak with Ameliance to complete custom deliveries

By completing these custom deliveries, players can receive gil, experience points, crafters' scrips or gatherer's scrips
HOUSING
New furnishings from the FFXIV Furnishing Design Contest have been added
BATTLE SYSTEM
PvP
Ninja

Shukuchi: The Hidden effect will now end even when using Sprint

Meisui: Base cure potency has been reduced from 10,000 to 8,000

Black Mage

Paradox: This action no longer has charges

Night Wing: Half-asleep effect no longer reduces target movement speed

Soul Resonance: Damage reduction from the Apocatastasis effect has been changed from 20% to 10%
RESOLVED ISSUES
An issue when undertaking the Myths of the Realm quest series wherein the symbols for Menphina and Halone in the Omphalos was incorrect

An issue wherein graphics did not display properly in certain areas

An issue wherein the cursor would reset to its default position each time a monk PvP action was set to the hotbar using a gamepad

An issue wherein Zodiac Weapons did not gain light upon completion of the Praetorium or the Minstrel's Ballad: Ultima's Bane

An issue in Crystalline Conflict wherein teams were not declared the winner despite reaching 100% progress
The full list of changes for Final Fantasy XIV Patch 6.15 can be found here.