Heard about the new Discord Spotify update but aren't sure how to use it. Find out how to connect your accounts for an even better music bot experience, here.
Discord music bots have been a thing for a while, but now the gamer-centered chat service has upped the ante on the shared music experience with a new Spotify integration. Though the Spotify connection news wasn't announced via the official update changelog, information about the new music integration was posted via the support forums .
If you're excited to get your Spotify and Discord accounts connected, but aren't sure how to do it, we've put together a quick guide to help you with that, plus some extra tips on how to use Spotify inside of Discord once your accounts are linked. Check it out below.
How To Connect Discord And Spotify Accounts

Go to https://discordapp.com/ and log in to your account (you are not able to connect your accounts via the app at this time).

Once logged in, click on the "User Settings" icon at the bottom of the screen near your username.

In User Settings, click on "Connections"

Click on the Spotify Icon

A pop-up screen will appear that will ask you to login to Spotify

Once logged in, click on the button to approve the connection.

You will receive a success message noting that your accounts are now connected
Spotify Discord Update Features
Profile Feature - Your Spotify information will now appear on both your mini and full profile.

Share Songs And Listen With Friends - Spotify Premium members can "Listen Along" with other Premium members to songs or playlists directly within their Discord server. Music timing is synced so everyone hears the same thing at the same time. Even if you don't have a Premium Spotify account you can still enjoy the new update as it allows non-premium members to display a "currently listening to" track in their Discord profile. This allows friends viewing your profile to check out the songs your listening to by clicking the "Play on Spotify" button.
How To Invite Friends To Listen To Spotify With You On Discord (Premium Account Required)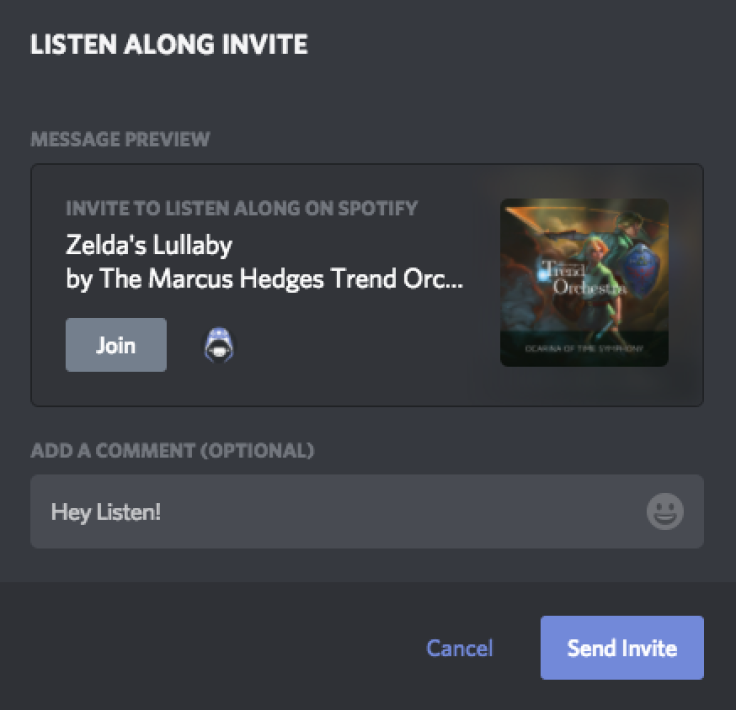 Start playing Spotify

Tap the + button with the Spotify symbol in your textbox

You can now send an invite for friends to listen with you. The invite comes with the option to craft your own message before sending.

If friends are listening along, you can see how many in the bottom left-hand corner of the app.
Discord 2.2.2 Update Changelog Notes
The latest Discord iOS app update arrived January 31. Here's everything that's changed.
More screens now respect dark theme.

Updated our codec to Opus 1.2! Experience the audio experience better than you've ever experienced it before.

Switch between bluetooth and speaker during a call instead of not being able to do this.

Tapping someone who's actively streaming used to crash the app. This update fixed that.

Fixed some issues with rich embeds not richly embedding things.

Fixed search crashes.. Less chance for crash.

Fixed issue where selected servers remained circles instead of rounded squares.