The latest issue of V Jump -- via Anime News Network -- detailed what players can expect from the new Digimon Nintendo 3DS game, Digimon Universe Appli Monsters.
The new game is billed as a "deck battle RPG," where players can scan special chips to acquire specific Appmon. V Jump also revealed some new mechanics, such as the "Applink" ability that links certain Appmon together to enhance other Appmon. Certain Applinks also trigger Digivolutions.
It's not clear whether this "Applink" ability fuses the Appmon to make a new Appmon or if their abilities are strengthened.
Bandai Namco is handling the release of the game, which does not have a release date as of this writing but the magazine says that a demo will be released before the full version.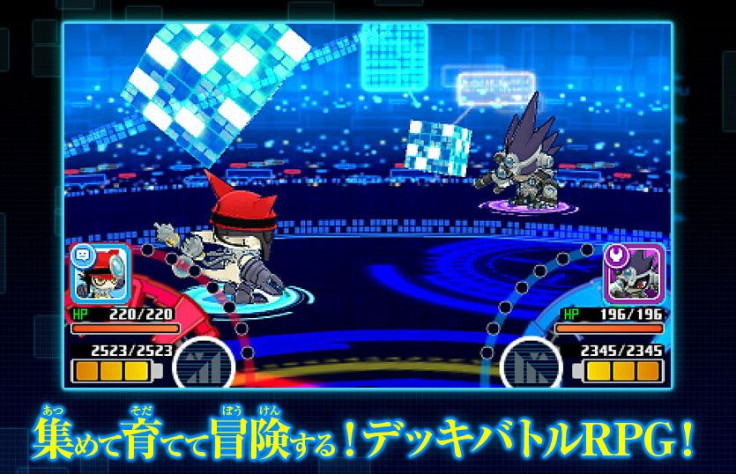 Digimon Universe Appli Monsters isn't only coming to the Nintendo 3DS, an arcade game will be released in Japan and an accompanying anime will release this Fall.
The anime will introduce a new protagonist and new Digimon that deal more closely with mobile devices than computers. Here's the official description for the upcoming Appli Monsters anime.
"Everyone in the world uses smartphone apps. But inside them lurks unknown creatures called "Appli Monsters," or "Appmon." The Appmon are AI lifeforms with the ability to think and act, and exist in the boundary between the human world and digital space to allow people and the system to interface and function. But in the vast sea of the internet, the "last boss AI" Leviathan takes control of the Appmon with a virus and begins hacking every system, thus starting to control the human world from the world of the net.
The protagonist, Haru Shinkai, is led to acquire the Appli Drive, and uses it to materialize Gacchimon, a search app monster. What is the secret hidden within the Appli Drive? What is the mysterious field that exists between net world where the Appmon exist, and the real world? What is the "App Combine" that can combine two Appmons? What is Leviathan's true goal?"
So what do you think of upcoming Digimon 3DS game? Are you on board with a deck building RPG? Sound off in the comments section below.