Here's some good news for new players in DC Universe Online: the MMO has again extended access to Open Episode to June 11. The offer started on March 19 and was expected to end on April 1, before it was originally extended to May 11. With this, players can access storylines and content for up to Episode 35: Metal Part I.
DC Universe Online is a free-to-play massive multiplayer online game that is set in the fictional DC Comics universe. The game was released back in 2011. While the game has a main plot, Episodes are a way of giving players access to new content. However, these are not free as they are only available to those who have an active subscription or for a fee to non-members. Each Episode offers new and engaging storylines while also letting players earn new achievements.
While there are going to be no more bonus weekends, this has instead been changed to bonus weeks. For May 7 to May 13, it's going to be Special Stabilizer Week.
During this week, it's going to be all about Quarks, Quarks, and Quarks. That's right, it's time to get those rare Time Capsule items. As mentioned, it runs until Wednesday, so there's still time to jump in.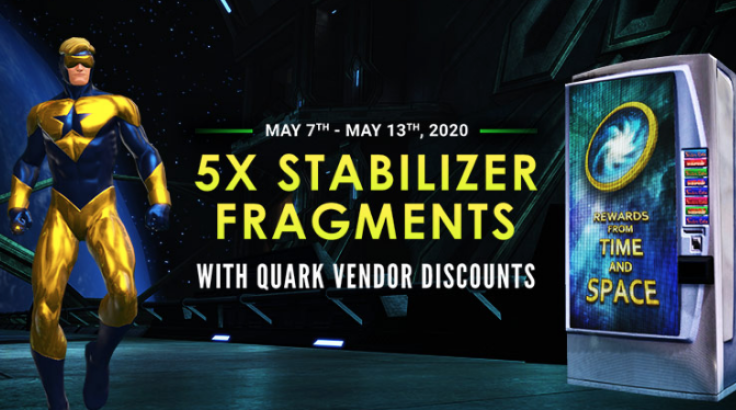 Here are the bonuses available:
5x Bonus Stabilizer Fragments when completing the daily Stabilizer event in the On Duty menu.
20% discount at the Rewards from Time & Space and Second Chance (Quark) vendors.

There are the two vendors where you can spend you Quarks to obtain special items or items from previous Time Capsules.
At the end of week, there are also going to be rewards handed out. However, the rewards are going to be based on the access level of players. Here are the rewards given at the end of the event:
Free Players

Standard Reward: 3 Stabilizer Fragments
5X Bonus Reward: 15 Stabilizer Fragments (one complete Stabilizer)

Members

Standard Reward: 6 Stabilizer Fragments
5X Bonus Reward: 30 Stabilizer Fragments (two complete Stabilizers)

Premium Access Level

Standard Reward: 4 Stabilizer Fragments
5X Bonus Reward: 20 Stabilizer Fragments (one and one-third complete Stabilizers)
As a reminder, one Stabilizer needs 15 Stabilizer Fragments. Each Stabilizer can then be used to open any existing Time Capsule. Learn more about Time Capsules here.