The Cycle: Frontier feels like a different game due to significant changes brought by the newly released Patch 3.0.0. One of its highlights is the loadout presets - a feature long requested by the community.
Set Your Loadout Presets
Various weapons in The Cycle: Frontier have different attachments to make them better. While it's good that you can improve your equipment this way, it's just too cumbersome to do because it requires you to do multiple clicks.
Well, that problem is a thing of the past as Patch 3.0 adds the highly-requested loadout presets feature. Now, you can save your preferred items so you can switch between them with just one click.
All items you've saved to your presets will be equipped directly from your stash. If an item or consumable is missing from your storage, it will be immediately acquired from the relevant faction HQ, with a pop-up asking you to confirm the purchase.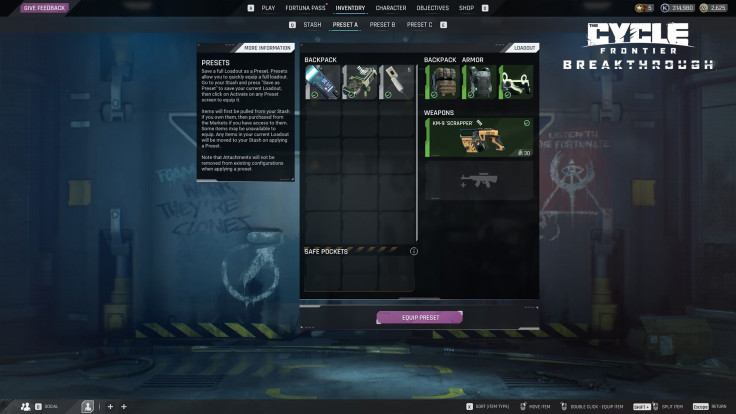 No More Wipes
The Cycle: Frontier developers made a huge announcement following the release of Patch 3.0. According to the dev team, the game has been overhauled and is now shifting to a permanent progression system. This means that season three is the final season where you're forced to wipe your progress.
Because progress will no longer be wiped after each season from here on out, the team made adjustments to certain game aspects. For one, exotic and legendary items will now be much harder to find. New ammo variants for different weapons have been added as well, though these will increase in cost as you progress to higher tiers of weapons.
From now on, purchasing weapons from factions will now require you to pay faction Scrips, in addition to their usual K-Mark costs. Faction Scrips in The Cycle: Frontier are a form of currency obtainable from completing jobs and missions offered by different factions in-game.
Battle Against Cheaters
The team is on an ongoing mission to thwart cheaters from ruining the experience for everyone. To help prevent cheaters from wreaking havoc, here are the major improvements made thus far:
Shielded Matchmaking: Helps give our Trusted players an added layer of security, and makes the creation of alt-accounts much more difficult for cheaters.

Cheating Victim Compensation: Automatically compensates players who fell victim to a cheater once that cheater is banned.

Data Obfuscation: Makes the creation and development of cheats more difficult and time consuming.

A Dedicated Anti-Cheat Team: Closely monitors and quickly reacts to any new threats the game might face.

Third Party Tools: We have worked closely with anti-cheat specialists like BattlEye to add additional layers of security to the game.

Revamped in-game reports: Makes the process of sending reports much smoother, and gives our team more data to investigate cheaters.
The Cycle: Frontier Patch 3.0 is available on PC.