The Crew 2 announced that its next major update is arriving on November 25. This upcoming update is going to make some big changes in The Crew 2 by introducing a new Season system. Season 1 is going to start with Episode 1: The Chase.
What this means is that The Crew 2 is going to be presenting its live events differently. Season 1 is set to last for four months and offers two of what Ubisoft is calling Episodes. Each Episode is going to last for two months. The Crew 2 said that they're going to reveal more details of this update on November 16.
Look Who's Returning Yet Again!
Last week, the LIVE Summit saw the return of the Brits. This week we again see the return of a previous LIVE Summit. The Rising Sun is back once again. That makes it the third time The Rising Sun has been available in The Crew 2.
The top prize this week is none other than the Legendary Mazda RX-8 Thunderwave Edition. Battle it out with other racers and earn a spot in the top 300 to grab this Platinum prize. Other prizes up for grabs this week are:
Gold: Yellow Nitro
Silver: Mazda RX-8 Visual Parts
Bronze: 400K Followers
Like with any LIVE Summit, there are three skills to be tested this week. In Speedtrap, players need to drive as fast as they can and then have it recorded by a camera. Escape, meanwhile, has players running away from an ever expanding red circle. The circle eventually catches everyone, but the goal is to reach the target score before the circle catches you.
Races include the likes of Bronx, Serial Jumpers, and Eastfield. Players can also try their luck at the Miami Race Track Skid.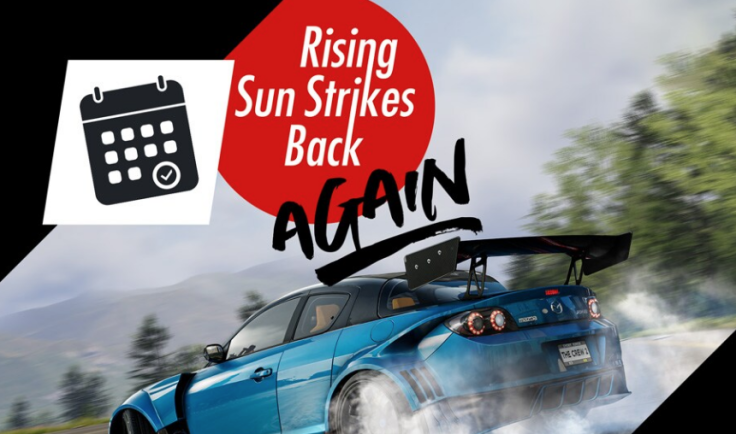 This week's bundle has you covered for everything in this LIVE Summit and can help you hurdle those tests. The bundle offers:
Nissan Skyline GT-R R34 (2002) – Drag
Nissan 370Z (2013) – Touring Car
Mitsubishi Eclipse GSX (1999) – Street Race
Mazda RX7 (2002) – Drift
Kawasaki KX450F (2015) – Rally Raid
Honda Civic Type R (2016) – Street Race
Those who want to take it easy this can always go to the Far & Beyond store and get the Mazda RX-8 Shōri Edition. It's going to have not only the vehicle, but also the vanity items. This offer is good until November 17.
What do you think? Are you excited for the upcoming update? Are you looking forward to the start of Seasons in The Crew 2? Let us know your thoughts in the comments section below.