Two new special Operators, a new battle pass, an improved training ground, and tons of other new content are coming to Call of Duty: Mobile Season 3. Read further to find out what's in store for you.
Radical Raid Battle Pass
In Season 3, you can buy the Radical Raid battle pass to acquire exciting things, including the 80s-themed Operator skins for Killgore, Gunzo: Clownpin, Park: Glam, and American Bulldog: Chrome Dome. Special weapon blueprints will also be available, including the HBRa3: Jaguar 3,000, MAC-10: Banana Blaster, and Kilo 141: Hair Metal.
If you do not like spending money, there is still some exciting content from the free battle pass. At Tier 14, you will get the new Reactor Core Operator skill, which deals persistent radiation damage by heating up nearby enemies. There's the new MAC-10 that can be unlocked at Tier 21. This is a fast-firing submachine gun best used in close-quarter combat. Other unlockables include weapon camos, blueprints, and even a Cultural Export Calling Card at Tier 50.
Improved Training Ground
The Practice Range is a perfect way to improve your aim and get yourself warmed up before battling other players. The good news is that coming Season 3, you can expect an improved training ground. There will be a new Command Panel where you can adjust different parameters. Furthermore, you can spawn AI soldiers, and there are things that you can customize to tailor your experience.
Another thing worth mentioning is the weapon trial feature, which allows you to change weapons and attachments directly through the user interface.
New Operators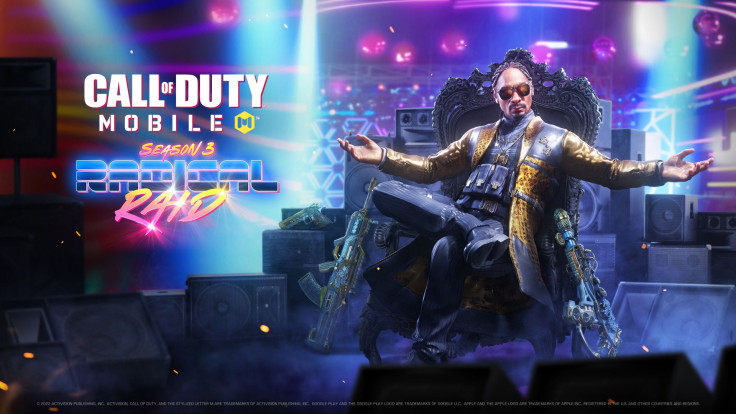 Snoop Dogg will make a special appearance alongside Scylla sometime in April. Snoop Dogg wields his trusty RUS-79U: Equalizer submachine gun that features a titanium and carbon frame filled with diamond inlays. What's more, the weapon comes with a special death effect that transforms you under a magnificent beam of light when you're eliminated.
Scylla is a Brazilian soldier, and she will be clothed in her 80s-themed Light Runner Operator skin when she becomes available. She is equipped with a Mythic AK-47, an experimental weapon made of synthetic diamond. Its special property is that it converts physical ammunition into photonic energy.
Call of Duty: Mobile Season 3: Radical Raid launches on March 30 at 8 p.m EST.