Cress Williams plays Black Lightning, the lead of the titular DC TV series coming to The CW early next year. But even though the show is named after Jefferson Pierce, the feminine energy is strong. The series' three other main characters just may steal the show: Thunder, Lightning and their mother, Lynn.
When we talked with Cress Williams, the first thing he mentioned wasn't his abilities, villains to expect, or his supersuit. It was his character's relationship with his daughters and ex-wife, and when we sat down with Nafessa Williams, China Anne McClain and Christine Adams at San Diego Comic Con last week, the focus on family, sisterhood and motherhood became even more evident.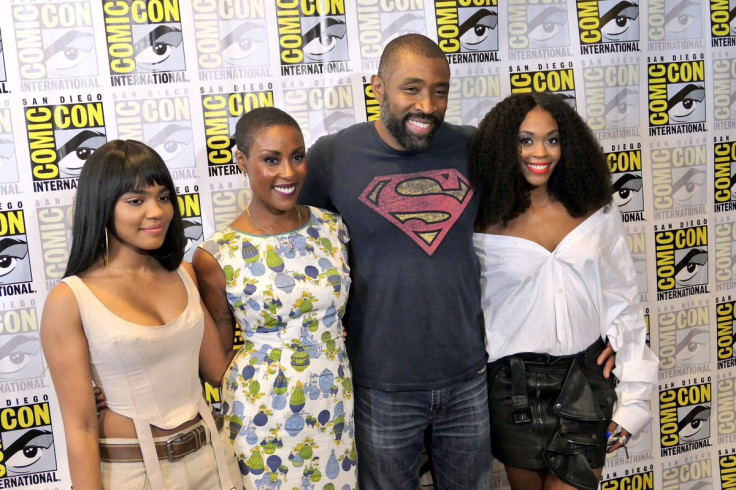 Family is a huge theme for all the DC shows in CW's lineup. The Flash explores brotherhood between Wally and Barry, Supergirl focuses on the sisterhood between Alex and Kara, Arrow has a brother-sister dynamic with Oliver and Thea, but never have we seen two women of color shine in any superhero TV show. Exploring the black family is one of the many ways Black Lightning stands out, says Williams, who plays Anissa.
"I know how it feels to be a fan of a book, if anything I just want to stay true to who you guys know Thunder to be. Mara and Salim got that under control, they are going to be very authentic to the story, authentic to black families."
Williams says her character, whose alter ego is Thunder, is very protective over her younger sister, Jennifer, and says she and McClain have a strong relationship in real life that she hopes will translate on screen.
READ: Black Lightning Has 'No Filter,' Says Co-Creator Salim Akil
"I'm very protective over her being the older sister. You'll see that sister relationship, wanting to protect her and school her on things I went through before. You'll see us go through family issues like we all do and resolve them together," Williams said. "She's my little sister since the day we met at the audition. We were obsessed with each other."
Black Lightning will stay very true to the comics according to Cress Williams, but one arc in particular fans of the Pierce family hope to see on-screen is Anissa explore her sexuality. Thunder was one of the only queer heroes of color in DC Universe when she met her future girlfriend, Grace Choi, in the Outsiders. While Williams has only read the script for the first episode and says she doesn't know where writers Salim and Mara Akil will take her character, she's confident they will stay true to source material.
"I just want to stay true to the story of Black Lightning, and if that's what that world is, I'm going to commit to it and go all the way," Williams said, emphasizing that she has a lot in common with her character regardless of her sexuality. "Just bringing that strength of who I am as a woman. She's very strong, very determined and I try to bring some of those qualities of myself into her."
Even though Anissa and her sister, Jennifer, have a strong relationship, their storylines will be unique and separate from one another. While Anissa will have already grew into her powers, McClain, who plays Lightning, told us her character won't have her powers when the series begins and she has no idea her father and sister have special abilities as well.
READ: Black Lightning: Who Are Gambi And Inspector Henderson?
"When the show starts out, I don't have my powers yet," McClain said. "I have no clue that anything like that is going on into my family. I'm just being a teenager getting into a lot of trouble, sneaking out, all of that stuff and struggling. At first I can't control it, so if I touch and electronic device it shorts out so I can't get on Twitter or Instagram. Super alienated. You're going to see me having some fun with my powers. It's not just going to be me being responsible."
With both daughters dealing with their own personal struggles and Jefferson Piece out protecting the city, it's Lynn who will be the emotional rock of this imperfect family. Adams, who plays Lynn, reveals she and Jefferson Pierce were college sweethearts. She is one of the only people who knows about his secret identity. His night job is what ultimately separates them, but it's Anissa and Jennifer who bring them back into each others lives.
"What she does, is she's very nurturing and very grounded but she also doesn't want to be a widow. You're husband is going out every night and fighting crime and he may not come back. That's ultimately what separates them originally, and what ironically brings them back together and what makes him go back to his crime fighting are these two children who also now have superpowers and they are young. We need to teach them how to use those powers. It goes back to this real life situation of how do you navigate that?"
With more and more children growing up in non traditional families, it's still rare to see for lack of better term, functional divorce, on television, but that's what makes the series more realistic than other shows, says Adams.
READ: Black Lightning's Nafessa Williams Talks Thunder And The Outsiders
"There's a lot of love there and respect there. They have these two incredible children. There will be a lot of 'will they won't they,' that will be a big draw for the audience, certainly the moms and dads watching. The only reason she didn't want to stay in the marriage is because he kind of had an addiction to being a crime fighter. It's very difficult when you love someone so much but you see them doing something that could really hurt them," Adams said. "This idea of this perfect family that has it down, that has it together in real life, people are human, they make mistakes, marriages fail: that's the way the world is. What we've got feels much more rooted in a reality."
All of these women will serve as the first heroes of color on network TV and McClain admits she was intimidated about her character being a role model for young girls at first, but came to realize leading by example is a way of life.
"When you start shooting the show and actually get into it, it's a lot less intimidating because you realize you can only do what you can do. Trying to be a good example for young girls is a way of life. It's the way that you live, it's not like you can't make any mistakes. It's not about that. It's about learning from your mistakes and trying to tell other girls that it's okay and you can always be better."
Tony Isabella created Black Lightning with Trevor Von Eeden in 1977. Salim and Mara Brock Akil are co-creators of the TV series. Are you excited for Black Lightning next year? Let us know in the comments.