The highly anticipated Arena of Solare regular season has officially started in Black Desert Online. Hopefully, you have played enough matches in the pre-season to hone your skills because there are a lot of desirable items up for grabs.
If you place anywhere in the Top 100, you'll not only get the Honorary Solare Knight title but also the Glorious Solare Box and cool Solare Knight Outfit. The Glorious Solare Box contains the following:
Cron Stone x1,000

Corrupt Oil of Immortality x20

Perfume of Courage x30

Khalk's Elixir x30

Elixir of Deep Sea x30

Perfume of Charm x30

Perfume of Insight x30

Giant's Draught x50

Armor Draught x50

Elixir of Indignation x50

Item Collection Increase Scroll (60 min) x30
In addition, the top player for each class will be featured in the Hall of Fame for everyone to see. Talk about bragging rights!
Aside from the tournament, the latest update for Black Desert Online now has a dedicated interface that allows you to transfuse crystals without slotting them onto your equipment.
The Crystal Preset System enables you to activate crystal effects from a separate UI. You can add as many as 50 crystals to the Crystal Inventory, but only 15 can be equipped at once.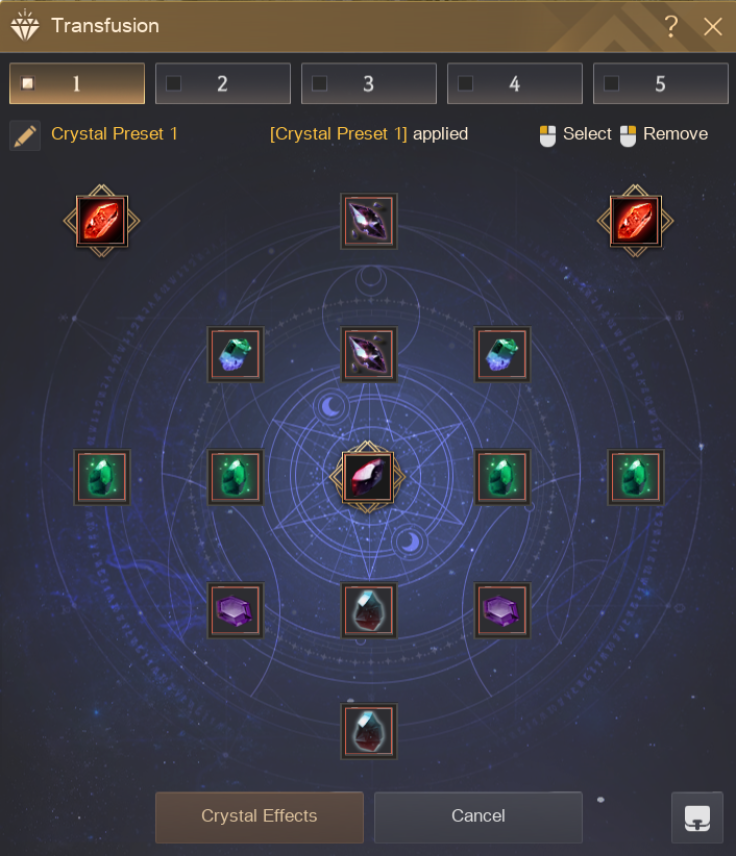 Here's some additional information regarding the Crystal Preset System:
You can rename the crystal preset through a button in the Transfusion UI.

You can extract crystals by obtaining a Crystal Extraction Tool from a Blacksmith NPC or through using the Black Spirit Essence.

If you wish to remove crystals in the Owned Crystals UI by pressing RMB, those crystals will be destroyed.

You can register up to 50 crystals and set up to 5 presets.

Additional methods of usage will be added soon.

The top left and right slots will unlock upon reforming awakening weapons.

Crystal slots can be unlocked through Heart of Karanda or Garmoth's Heart.

The slot will become locked if you equip an item that has not been reformed if you try to use the preset.

The socket in the middle of the Transfusion UI will become available if you equip an outfit that has a socket that was created using the Black Spirit's Claw.

You can only equip Ancient Spirit's Crystal in this slot.

If the crystal shatters upon death while it is equipped in the crystal preset, that crystal in your inventory will also shatter as well.

In this case, you will be unable to use the shattered crystal in your crystal preset.

However, the Ancient Spirit's Crystal will not be shattered like the same as before.

The rules that determine the number of crystals that shatter are the same as before if you die from a monster or player depending on your karma.

The rules of enhancement level drop upon death based on Karma is the same as before prior to the update.
So, are you going to partake in the official season of Arena of Solare?
Black Desert Online is available on PC.