Minecraft: Bedrock might offer plenty of content, but while Mojang Studios continues to add stuff via major updates, one aspect of the game still remains: its graphics. Fortunately, you can improve the graphics somehow with the use of shaders. The modding community has come up with some pretty interesting ones, so here are the top shaders that you should download right now:
Spectrum Shader
The first shader on the list is Spectrum Shader. This shader pack enhances the sky and bodies of water in Minecraft: Bedrock to make them look more realistic. Now on v2.0.5, Spectrum Shader offers improved night skies and colored stars.
What makes this shader pack interesting is that it is specifically made for Android and iOS. What's more, it is pretty light on resources as it only needs 1 to 2 GB of RAM to work, so those using modest mobile devices can enjoy this.
Continuum
If you play Minecraft: Bedrock on PC, you can try the Continuum shader pack. This is by far one of the best custom shaders for the game. You can see that the water looks lifelike and polished. You can enjoy the morning sunshine because the sun looks almost the same as the one in real life.
RealSource RTX
If you are rocking an NVIDIA RTX graphics card, you might want to check RealSource RTX out. This shader pack has been heavily improved since its inception. According to the creator, you're less likely to experience FPS drops now. Furthermore, FPS stays consistent even in more demanding biomes, such as the jungle and mangrove swamp.
Most of the carried items have been smoothed out as well. And lastly, each biome in the game has its own group of settings, so that you can tinker with every detail imaginable.
Since RealSource RTX tries to emulate ray-traced lighting to improve the graphics, you can expect it to be quite resource-heavy. But if your PC can handle it, this is highly recommended.
Sildurs Shaders
They say that you should always save the best for last and that is true for the final shader pack on this list. Sildurs Shaders is great because it not only adds volumetric lighting, bloom, and ambient occlusion, but it also completely revamps the lighting system of the game; all while maintaining high performance.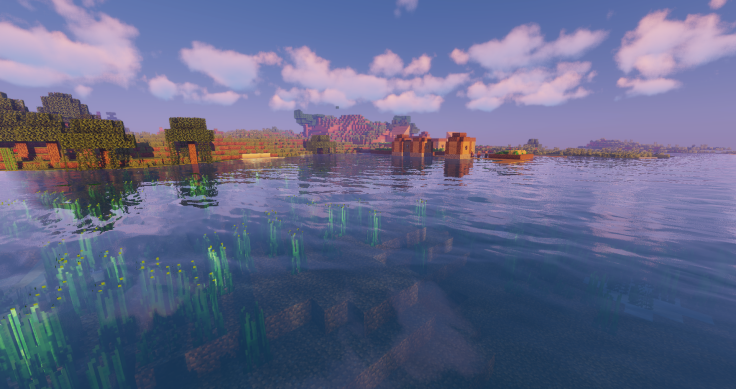 Unlike RealSource RTX, this shader pack is highly optimized so that it can run on low-end devices as well.
So, which shader pack caught your attention? Are you going to try it out soon?
Minecraft: Bedrock is available on PS4, PS5, Xbox One, Xbox Series X/S, Nintendo Switch, Android, iOS, and PC.