Apex Legends Season 5 is only a couple of hours away, 24 hours to be exact. Fortune's Favor is an exciting season as it is directly linked with Season 4, which added Revenant to the roster. As mentioned above, the season will go live on May 12 on all platforms. The exact time has not been mentioned. However, if previous season launches are to be believed, then it should be around 2 p.m. to 4 p.m. EST.
Content-wise, Fortune's Favor is quite similar to previous Seasons. It adds a new Legend, makes some tweaks to the existing map, adds new features and a new Ranked series, and includes a brand-new Battle Pass. Most of the hype around the new season is related to the new Legend, Loba. Respawn released a gameplay trailer that showed off her abilities. She has a staff that can give her new items, but how it actually works is still a mystery. She also has a teleportation ability which she can use to get out of tricky situations. Check out the trailer below.
The new Battle Pass will add over 100 exclusive items. You will have to play the game to level up, but will get more stuff as you progress in the Battle Pass. Just like the previous season, there are two paths, Free and Premium. Premium will get you the best items while free will just give you a small taste.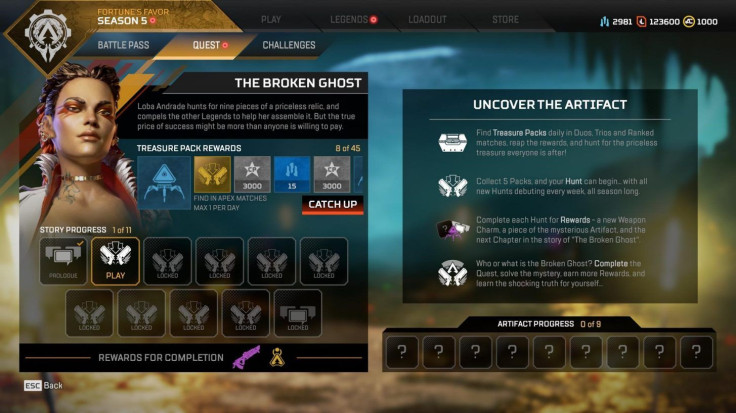 The most interesting change is the new Quest system. The game will let you start Quests in the middle of a match. These quests look kind of similar to the Fight of Flight event which was released a couple of months ago. Completing the Quests will offer you additional rewards, and you will also learn more about the story of "The Broken Ghosts".
The first map, Kings Canyon, also went through some major changes, it is now called Kings Canyon Unearthed. The developers have removed the TTV favorite place to drop, Skull Town (millions of Wraith mains cried out in terror). The entire town collapsed and is now underwater. In its replacement we have a massive offshore platform-like structure.
It looks like this season is going to be amazing. Developers at Respawn revealed via a Twitter post that patch notes will be coming tomorrow. The upcoming update will also bring a buff for Mirage.
So what do you think? Are you excited about the new Season? Will you be playing as Loba or will you stick with your main? Let us know your thoughts in the comments section below.