Time to get your freeze on as Fortnite celebrates the holiday season with Winterfest. Among the many things being offered are new challenges as well as free gifts.
To take part in this event, players need to go to the in-game lobby and look for the new snowflake tab. Clicking on the tab takes you to the Winterfest Lodge. While there, you get to unwrap a new present which can include, among others, two Outfits, two Gliders, two Pickaxes, two Wraps, and one Emote. It's not just one present either, as you get to unwrap a present every day for 14 days. But wait, there's more. All the presents are free for everyone to open. If you miss any days, don't worry as you can go back to the Lodge and open them. Don't take too long as this is only good until January 7.
The Winterfest Lodge also has stockings that offer rewards to unlock. Check your stocking each day to get a new challenge. Completing the challenge gives you both rewards and XP. Like presents, you have until January 7 to grab all the goodies.
Fortnite is also unvaulting lots of weapons during the Winterfest event. In addition, beginning December 18 and until January 7, get a chance to try out some of the favorite LTMs like Arsenal and Wick's Bounty. Finally, Zone Wars is also going to be running throughout the holidays.
Save The World
Fortnite also revealed that Save the World Founder's Packs are now available at 50% off. The upgrades are back as well, especially for those who want to upgrade to the Super Deluxe and Limited Edition Packs. This offer is available until January 17.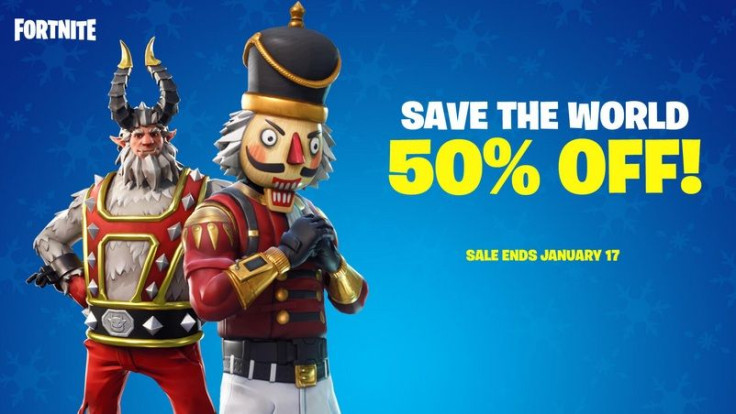 Other things to look out for in Save the World are:
Frostnite

Frost weather is expected this week and those who Overcome the Frosty Turf challenge get to unlock the Tree of Light.

Festive and deadly, the Tree of Light is a slow weapon with high damage which creates a burst of stunning light every eight hits.

This is available on December 19 at 1:00 EST.

Battle Breakers

Reach Level 50 in Battle Breakers and unlock Kurohamura for free.
His skills are:

Standard Perk: Seismic Stun

Seismic Smash applies a 3.3 second stun and 1,500 impact.

Commander Perk: Seismic Stun+

Seismic Smash applies a 3.3 second stun and 1,500 impact.
Additionally, Seismic Smash deals 35 base Fire damage every second for 3 seconds.

The AR Returns

They say slow and steady wins the race and that rings true with the return of the Assault Rifle.
Available from the weekly store beginning December 18 at 7:00 PM EST until December 25 at 7:00 PM EST.
So what are you waiting? Time to lock and load.