Star Wars Squadrons received a positive reception from fans. But some players criticized its storyline and lack of content. Developers of the game, Motive Studios, can't do anything about the story now, but they sure can add more content. And that's exactly what they did.
Squadrons recently received the second part of the previously announced Holiday Supply Drop, aka, Update 4.0. The December Update adds new content, more QoL features, and bug fixes.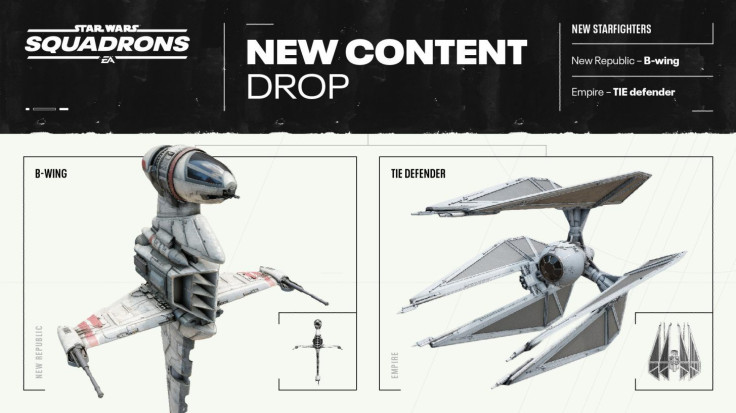 Two new Starfighters are added to the game. The New Republic gets B-Wing (the one from Episode VI), and the Empire gets TIE Fighters.
Players can now create their own custom games. You can create matches in seven maps for both Dogfight and Fleet Battles. You may also tweak a few things. These include hull/shield/damage modifiers, capital ship health, and outright ban of certain starfighters.
That's not all. Developers have added a server browser to the game as well. You can use the browser to find public matches or use it to join a private match created by your friends.
There are a few more changes that the update brings. We have mentioned the highlights below.
HIGHLIGHTS
Added the B-wing to the New Republic fleet
Added the TIE defender to the Imperial Navy
Added Custom Games and a server browser, available in the Multiplayer & Training menu
Adjusted Skill Rating requirements for each tier via server-side change last week (see below for full details)
Updated Skill Rating gain/loss ratios to better reflect each player's performance in a match via server-side change last week
Ongoing server-side matchmaking improvements
Added support for TrackIR on PC
Added new cosmetics that will be rolled out over time through in-game events and Operations
Individual sub-tiers in the rank ladder now display their SR requirements
The complete patch notes are available on the official site.
EA said before that there will be no post-launch content for Squadrons. But it seemed they reconsidered things since we keep getting more and more stuff every month. All that for no extra cost.