I've been a Shadowrun fan for as long as I can remember. And, like many Shadowrun fans, I'm perpetually starved for things to buy. So I snatched up all three of Harebrained Schemes recent PC games, Shadowrun Returns, Shadowrun: Dragonfall and Shadowrun: Hong Kong, as soon as they released.
And now there's something new on the horizon. It's not a game (sad face) but it is something cool and collectible. A vinyl release of Jon Everist's excellent soundtrack for both Dragonfall and Hong Kong, accompanied by fantastic art from HBS concept artist and illustrators Jenn Ravenna and Joel DuQue. And, like many of the characters fans love, Everist's journey into Shadowrun goes from the height of corporate luxury to some big risk taking and a hefty dash of luck, too.
"My mom was a single mother, a teacher, and didn't really want me to get too into music because she thought that I wouldn't be able to make any money, professionally. But obviously when your parents say you can't do something you kind of do it more," Everist told Player.One. "Never thought that I would do music professionally as a full-time gig."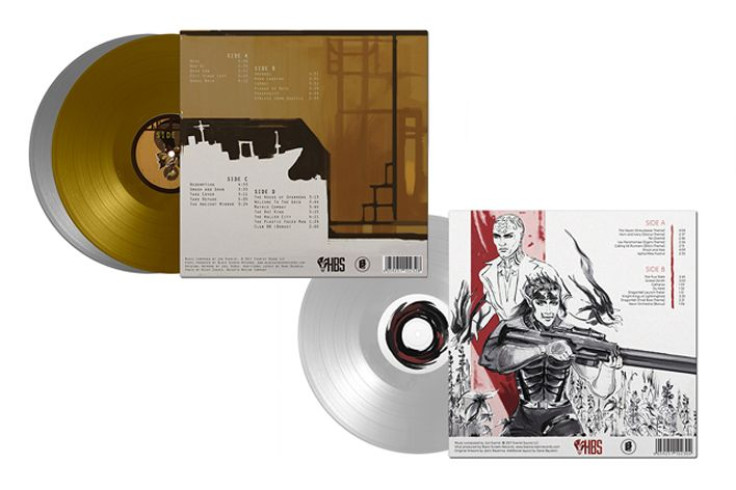 So Everist always kept his passion for music at arm's length. He was a hip-hop head, and started to get into electronic music in the late 90s. He'd make beats for friends and even did a few tours. But the lure of the safety net proved strong and he soon found himself with a dream job. His parent's dream, not his.
"I got a job at Evil Overlord Amazon.com," he said. But all the while at his market-tested, mother-approved gig Everist continued to do music on the side. And he continued gaming, too, something he'd loved to do ever since Final Fantasy 3 first made him realize that video game music could be an art unto itself. He'd even played Shadowrun for SNES, albeit at a friend's house because his parents didn't approve of its dark themes or violence. It wasn't long before his side projects inspired him to take a big risk.
"After working the corporate hustle after college and doing music on the side I realized I wasn't cut out for the office job," he said. He cashed in his retirement savings from Amazon and enrolled in DigiPen to study music and sound design for games. And, like any good runner, he started to meet people who would become part of his team. Harebrained Schemes recruited from the program, and his friend (and Shadowrun Dragonfall artist) Jenn Ravenna put in a good word for him. Soon, he was at work on tracks for Dragonfall.
"I was always making music, always trying to get my music in front of people, and I think law of averages I just got lucky," he said. The more he learned about the world of Shadowrun the more it inspired him. "This is some deep high science fiction stuff. Especially the political climate we're in right now, there's so many analogues to stuff that's happening and you're like 'Shadowrun was talking about this exact thing!'"
Everist didn't stop taking risks once he got his opportunity. His first submission, a character theme for Dragonfall lead Glory, focused on a sparse track of cello, clarinet and piano. Not exactly the pulsing synth beats cyberpunk genres bring to mind.
"They're either going to really hate this or they're going to think it's amazing. I thought it fit the story really well," he said.
It worked, and HBS liked Everist's work on Dragonfall so much they brought him on to do the score for Hong Kong along with even more creative freedom. They told him they trusted his judgment, so Everist knew he could explore a score beyond the comfort zone of a traditional cyberpunk mentality.
"Even though I was taking risks with the character themes I still felt like I had to contain myself from taking the score in a completely different direction, so there's a lot more electronic music in Dragonfall than there is in Hong Kong," he said.
So impressed was HBS with Everist's work that they decided to do a vinyl release of both of his soundtracks. Shadowrun: Dragonfall will be available on limited edition clear 180g single vinyl, Shadowrun: Hong Kong on limited edition gold/silver 180g double vinyl. Both release in early 2018 but no date has been set.
"It's cool to see vinyl coming back a little bit. I grew up collecting vinyl. I never thought I would produce a vinyl record, that's for sure," said Everist.
Everist is excited to see such passion for video game soundtracks in general, not just his own. The medium has come a long way since Final Fantasy 3, and now fans get to experience complete packages of soundtracks and art. Of course, for Shadowrun, it begs the question: is vinyl cyberpunk?
"I was setting it up the other day and it did feel like I was hacking into something," Everist said. "Finding a way to go from phono into line and then amplification into this Sonos that it should not be going into, it did feel a little bit cyberpunky using some old tech to get into the system."
And his mom? What does she think about his newfangled success as a soon-to-be vinyl sensation?
"She's happy I'm getting health insurance, that's all she cares about, really," he said with a laugh.
For more information, visit Black Screen Records official sites for the Shadowrun: Dragonfall and Shadowrun: Hong Kong soundtracks. You can also listen to more of Jon Everist's work on Soundcloud.