Resident Evil 7 has finally arrived as of today, Jan. 24, and the internet is full of YouTube playthroughs, reviews, and terrifying screen shots of the sick Baker family and the eerie estate. Fans from all around are praising Capcom's latest installation of the Resident Evil franchise, applauding its immersive gameplay and insanely scary storyline.
For those that haven't put down RE7 and completed the game, you may have seen the teaser art announcing the "Not A Hero" DLC in the post credits. Not a Hero is additional free content arriving in spring. And while that may sound like a while a wait, fear not, the first RE7 DLC pack will arrive in the few days.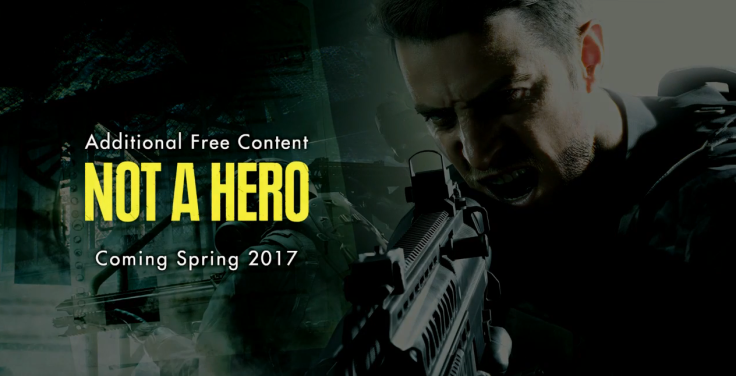 Launching on Jan. 31, the "Banned Footage Vol.1," DLC pack will be available for $9.99 and will include two tapes and a new mode. Via the PlayStation blog, here's what comes with the first DLC pack:
Bedroom: Figure out how to escape from a locked room — but don't let Marguerite Baker know you've been out of bed.
Nightmare: Fend off waves of enemies and survive until morning while crafting useful items and traps to stay alive.
Extra Mode: Ethan Must Die: A tough-as-nails mode separate from the tapes and story of the main game. (Does not support PS VR).
Following the Vol. 1 DLC comes "Banned Footage Vol. 2," which will be available on Valentine's Day, Feb. 14, for $14.99. This DLC will include two more tapes plus a new mode as well.
21: Gamble life and limb in a deadly game run by Lucas Baker.
Daughters: See what the Baker family was like before the tragic events of Resident Evil 7 biohazard.
Extra Mode: Jack's 55th Birthday: Race against the clock and feed Jack tons of food in this comical extra game mode separate from the tapes and story of the main game. (Does not support PS VR)
Resident Evil 7 is played from the first-person perspective of Ethan Winters. Ethan is summoned after receiving a mysterious message from his wife Mia who disappeared three ago. Taking place a few months into the future in 2017, Ethan heads to the Baker family plantation in search of Mia. Ignoring her plea to not come, Ethan goes against her will. Long story short, Ethan arrives at the Baker plantation and soon enough faces his wife who is no longer herself. There is much more to this story but I highly recommend you get your hands on RE7 asap– it's a title you won't want to miss this year.
Resident Evil 7 is out now on PS4, Xbox One, and PC. Share your thoughts below on the horror game and speculate with us of what is to come in the new DLC packs.