Plant vs. Zombies Heroes ' latest update dropped Tuesday afternoon, bringing a number of changes to the game, including a new deck of cards dubbed the "Triassic Triumph," balance changes, UI updates and more. Below we've summarized the major changes in the update. If you're looking for a complete list of all Triassic Triumph pack cards, you can check out our guide, here to those as well, so be sure to check back for that soon.
Plants vs Zombies Heroes January 2018 Update: New Cards, Abilities, Balance Changes And More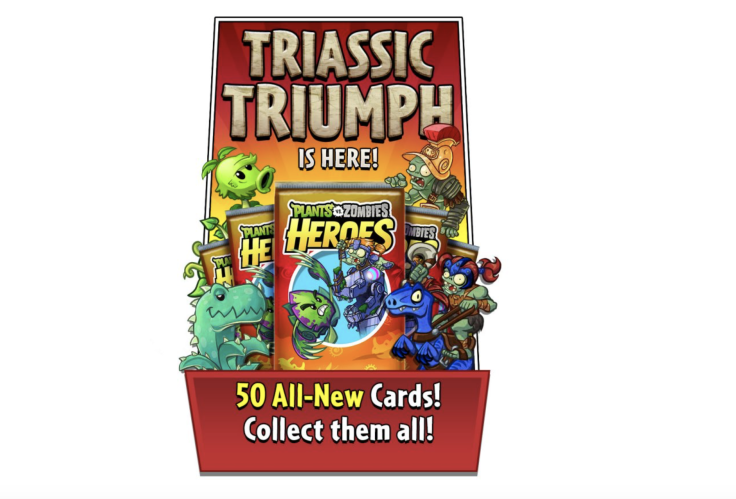 New "Triassic Triumph" Deck Released - The Triassic Triumph set, comes as a sequel to the earlier Colossal Fossils pack and features 50 new cards that bring a wave of fresh, prehistoric fun to the battlefield. Not only will your collection be flooded with new Zombie and Plant dinosaurs, the latest card pack also introduces a new fusion ability that's sure to shake up your gameplay. A complete list of new Triassic Triumph cards can be found here.
Fusion Ability Introduced - The Triassic Triumph Card pack features 50 new cards, 10 of which are getting a fusion ability.
What Does Fusion Ability Do? - Fusion ability allows players to increase the effectiveness of cards by playing them in lanes together. For players familiar with Evolution cards, Fusion cards work in a similar manner, just reversed. If you play a Fusion cards in a lane and then play another plant or zombie on top of it, the two can be fused together to unlock a special ability.
Previous Pack Abilities Expanded - As the Triassic Triumph pack come as a sequel to Colossal Fossils, 15 cards in the pack will feature expand on abilities previously introduced. Triassic Triumph pack contains 6 Dinosaurs with Dino-Roar abilities, 7 new Evolution cards, and 2 new Untrickable cards.
Card Balance Changes - to keep gameplay fun and engaging, PvZ Heroes releases regular card balance updates. January's update, includes balances for 32 cards from nine different packs. Those updates are as follows:
Beastly Pack

Gargantuar-Throwing Imp is now stronger: it says 'When hurt: Make a random Gargantuar that costs 5 in a random lane.' instead of always making Smashing Gargantuars.

Yeti Lunchbox , also made by Zombie Yeti, is now a Gourmet Pet Trick. (This means it triggers Zookeeper and Cat Lady.)

Primordial Cheese Shover is now a Gourmet History Zombie. (Not just Gourmet)

Goat , also made by Rose's Goatify Superpower, is now an ownable 0-cost 1/1 Pet and gained the ability 'This gets +1/+1 when any kind of Goat is hurt.'

Brainy Pack

Zom-Blob no longer has Bullseye.

Medulla Nebula now gives 2 brains when you play Zombies there instead of 3.

Leprechaun Imp now shuffles 1 Pot of Gold into your deck instead of 2.

Gargantuar Mime is now stronger: 5-cost 5/7. (was 5/5)

Neutron Imp is now overall stronger: 2-cost 2/3 (was 4-cost 4/4)

Shieldcrusher Viking is nw stronger: 5-cost 7/5. (was 6/5)

Regifting Zombie is now a Party Pirate. (was just Party)

Crazy Pack

Quickdraw Con Man is now smaller: 1-cost 1/3. (was 1/4)

Abracadaver is now healthier: 3-cost 3/2. (was 3/1)

Hearty Pack

Stompadon now costs more brains: 4-cost 2/4. (was 3-cost)

Jurassic Fossilhead now gets +2/+2 when it evolves. (was +3/+3)

Escape through Time now costs 2 brains instead of 1.

Zombie King now does not re-knight existing Knights of the Living Dead.

Leftovers , also made by Turkey Rider, is now a Gourmet Pet Trick. (This means it triggers Zookeeper and Cat Lady.)

Sneaky Pack

Zombot Aerostatic Gondola - We fixed a bug where its text had accidentally said 'When this does damage...' Now its text correctly says 'When this hurts the Plant Hero...', matching its game effect. (Sorry about that text bug!) Its Recycle value has been temporarily raised to match its Crafting cost.

Cursed Gargolith is now stronger: 6-cost 7/6. (was 7/5)

Tomb Raiser Zombie is now healthier: 4-cost 2/4. (was 2/3)

Guardian Pack

Gravitree is now stronger: 6-cost 7/7. (was 6/7)

Mirror-Nut is now healthier: 4-cost 0/7. (was 0/6)

Three-Nut is now healthier: 3-cost 3/2. (was 3/1)

Mega-Grow Pack

Lily of the Valley has less Health: 2-cost 1/2. (was 1/3)

Half-Banana , also made by Banana Split, is now an ownable 1-cost 2/2 with the ability 'When destroyed: All Bananas in your hand get +1 Strength.'

Gatling Pea is now overall stronger: 5-cost 5/4. (was 4/5)

Smarty Pack

Jelly Bean now has less Health: 4-cost 4/3. (was 4/4)

Sow Magic Beans no longer draws a card when you play it.

Snapdragon is healthier: 4-cost 3/3. (was 3/2)

Solar Pack

Sunflower Seed now has less Health: 3-cost 3/1. (was 3/2)

Twin Sunflower is now healthier: 2-cost 0/2. (was 0/1)
Bug Fixes And UI Updates
Untrickable Glitch Fixed - the ability now consistently makes a card unaffected by all your opponents' tricks. (ex: Untrickable cards now remain undamaged by Cherry Bomb, Precision Blast, Power Pummel etc.)

Witch's Familiar Fixed - Immorticia's signature superpower, can now correctly be played on the Water as well as the land.

Evolution Plants on Team-Up Plants Fix - Its now physically easier to play Evolution Plants on Team-Up Plants without the Plant moving out the way.

Evolution Glow Added - Evolution cards played on another card now show a special Evolution glow.

Ability Keyword Animations - Several keyword ability icons on cards now shows a special animation on those icons when that card is played.