Path of Building, most popularly known as POB, is a nifty tool for Path of Exile that allows you to plan out your builds and share them with others. It has a ton of features, including the whole passive tree and all of the game's items and gems.
LocalIdentity1, the creator of Path of Building, has recently launched an update that allows those playing Path of Exile on consoles to use POB's item trader feature.
For those who don't know, the item trader creates links that will lead directly to the items on the PoE trade website based on parameters you've set. For example, if you are looking for a Large Cluster Jewel with the Cremator and Burning Bright notable passives, the POB can generate a URL for you. Clicking that will lead you directly to the page where you can easily purchase the item you are looking for.
Another significant change made in the latest POB is that you no longer need to get your POESESSID (PoE Session ID) to conduct weighted searches with the item trader. This option also lets you import your searched items directly into your build without opening the link in a browser.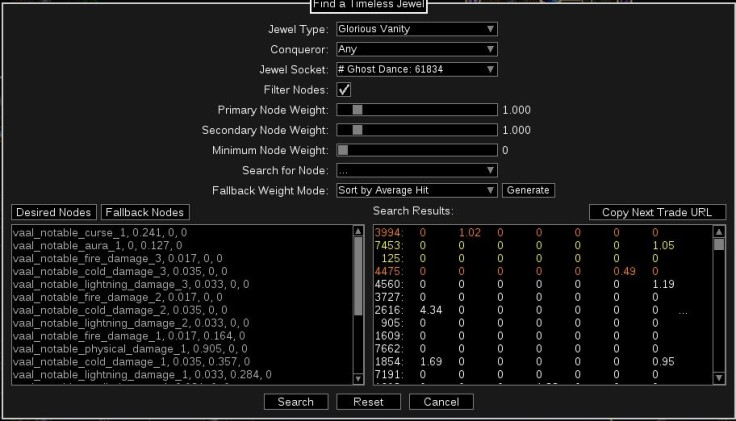 Here are the other changes implemented in POB:
POB Trader

Add support for Private Leagues

Sort Trade league name drop down so temporary leagues appear at the top of the list

Automatically adjust weighted search to prevent result clipping (Dullson)

Add support to change the sorting mode on already-fetched items

Improve item pricer error handling

Temporarily remove Synthesis mods until they are properly supported

Remove Eldritch mods checkbox from bases that are unable to roll Eldritch mods

Display item price at the bottom of the item tooltip

Use default item affix quality to generate mod weightings

Add option to select any conqueror Keystone for Timeless jewels search

Add support for Mutewind Pennant Warcry mod

Add support for Phantasmal Reave radius

Add support for Sandstorm Visage crit mod

Add Support for Frozen Sweep DPS and burst damage

Add support for Original Sin

Add support for Progenesis and show the amount recouped

Add support for Rotting Legion missing Zombie mod

Critical strike cull chance now uses hit rate to determine DPS gain

Increased flask effect works on Silver Flask to scale Onslaught effect

Add sanctum unique drop locations

Update tree to 3.20.1
BUG FIXES
PoB Trader memory leak

Minion-specific mods not being included as mods for weighted search

Item pricing mod calculation does now use DPS instead of average damage

Minion-specific mods granting their effect to all Minions

Session IDs not saving separately per imported account
The full list of changes can be found here.
Path of Exile is available on PlayStation 4, Xbox One, and PC.