Other than announcing the OITNB Season 5 release date of June 9, we haven't had much official word about what's in store for new episodes of Orange is the New Black from Netflix or showrunner Jenji Kohan. But one castmember revealed the whole season takes place over only three days, and it's totally overthrown our expectations for what will happen next on the Emmy-winning series.
Warning: There are Orange is the New Black Season 4 spoilers throughout this article, as we'll be discussing the major events of the final episodes of the season. If you haven't finished watching yet, get the heck out of here! We don't want to ruin it for you.
Danielle Brooks (Taystee) spoke to E! News on the red carpet of the Screen Actors Guild Awards, saying, "Season 5 is done over the course of three days: you will watch 13 episodes, and find out what happens in the course of three days. So, it will be very detailed, very intense, and you better get ready."
That's a big change from previous seasons, which often deliberately kept the timeline vague to avoid viewers asking too many questions about the time remaining on each of the ladies' sentences. We predict those three short days will be one hell of a roller-coaster ride, and we're feeling a little less confident we're gonna get everything on our Season 5 wishlist.
READ: 'Orange is the New Black' Season 5 Wishlist: 6 Things We'd Love To See In Litchfield
When we left Litchfield at the end of Season 4, Daya (Dascha Polanco) had managed to get a gun and subdue a guard, threatening to blow his brains out. We weren't convinced she would go through with pulling the trigger; her mom and little baby are somewhere on the outside, waiting for her to finish her sentence. We assumed the riot would essentially be over before it even started, possibly with Daya chucked in Max for attacking a guard, with no blood spilled. The most likely outcome, it seemed, was dickish COs like Piscatella (Brad William Henke) seizing even more power, using the aftermath of Poussey's (Samira Wiley) death as an excuse to really make the inmates' lives miserable.
However, devoting a whole 13-episode season to the events of three days suggests something altogether different. It now seems more likely that violence between inmates and COs will erupt in Litchfield after Poussey's death. Chaos will ensue, with the inmates considerably outnumbering the guards. There's a lot of pent-up frustration toward the COs from the inmates, and at the moment there's three obvious targets: Piscatella, Coates (James McMenamin) and Humphrey (Michael Torpey).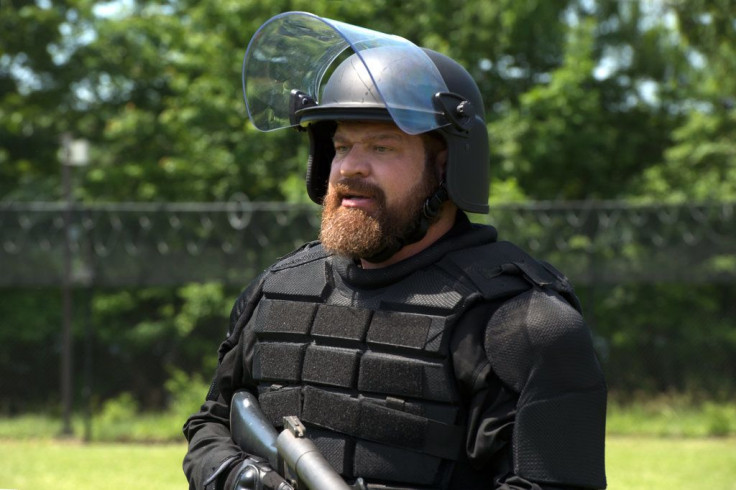 Piscatella's made an enemy of almost every woman in Litchfield with his sadism and cruelty, particularly the wild-eyed Blanca (Laura Gómez). We also wouldn't be surprised to see Taystee seize an opportunity to avenge Poussey by doing some serious harm to this big bully, if such a chance arises.
Coates, meanwhile, has made some enemies of his own after he raped Pennsatucky (Taryn Manning) and earned the eternal, undying hatred of Boo (Lea DeLaria) in the process. If Coates gets his due, it'll likely be Boo leading the charge, but we wouldn't mind seeing Penn getting a few hits in, either.
Let's not forget Humphrey, aka the creep who made Maritza (Diane Guerrero) eat a baby mouse. He's the one who got his gun taken away by Daya, and whose sick impulse to bet on the inmates fighting one another lead to the scuffle that killed Poussey. Even if Daya doesn't pull the trigger, a lot of the women wouldn't mind seeing him dead.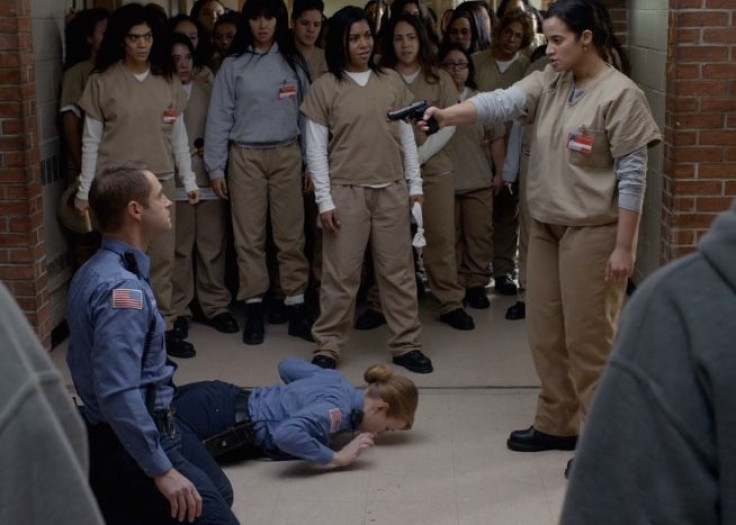 Of course, a violent uprising in Litchfield would likely have downsides for the inmates as well. Even if they managed to punish some of the guards for their past misdeeds, it's more likely than not that any riot will ultimately be subdued. At some point, "excessive force" will enter into that equation, and there's no way of knowing which characters could be a victim.
Then again, we could be reading this "three-day season" thing all wrong. Maybe the riot won't get off the ground, and instead the episodes will have a more emotional focus, as inmates deal with Poussey's death. Back in January, The Hollywood Reporter predicted Orange is the New Black Season 5 would focus on "the intense fallout after the inmates' devastating loss," which would suggest we'll be seeing a lot more of Soso and a closer focus on the relationships between the remaining girls. It's also likely we'll see more scenes with Warden Caputo (Nick Sandow) dealing with the resulting press coverage, and potentially the controversy surrounding Sophia Burset's (Laverne Cox) unjustified stint in solitary.
Whether or not the riot becomes the primary focus of the season, the shorter span of the upcoming season does tell us a few more things. For one, Piper (Taylor Shilling) probably isn't being written out, which is unfortunate and overdue. It's not likely we'll see much of CO Healy (Michael Harney) after his mental breakdown, or Lolly (Lori Petty), now that she's been confined to Psych. They're both removed from the general population and their stories need more than a few days to move forward. It's also unlikely we'll see the return of fan-favorite Stella (Ruby Rose); last we saw her she was in Max, and it seems unlikely they'll be moving inmates around in such a short period of time.
Bear in mind, this is all speculation, but one thing we do know for sure: Season 5 of Orange is the New Black is shaping up to be intense. "Get your popcorn, your tissues, everything," Brooks told the E! red carpet team at the SAG Awards. Gulp. Consider us warned!
Orange is the New Black returns to Netflix June 9. What do you think will happen over the course of those three key days in Litchfield? Which characters would you like to see more of in Season 5? Let us know your thoughts in the comments!