No Man's Sky is getting its first massive patch of the year. The Sentinel update offers a lot of new things, including the Hardframe Battle Mech and support for AMD's FidelityFX Super Resolution, among many others.
New Content
The Sentinel forces have a lot of new firepower in this update. One of the most notable is the introduction of the Hardframe Battle Mech. Even though this machine is clad in heavy armor, it is equipped with a high-powered jetpack that gives it so much mobility. It also carries a variety of weapons, including the plasma-powered flamethrower that can burn you to death, so make sure to eliminate these mechs as soon as possible.
If you want to explore worlds in a more stealthy approach, you can get the new Cloaking Device available for research aboard the Space Anomaly. This is a new Multi-Tool extension that cloaks your space traveler to evade enemies, such as the planetary Sentinels.
If you complete the new Exobiology Expedition, you'll be rewarded with the new Royal Jetpack. Who says you can't fly in style?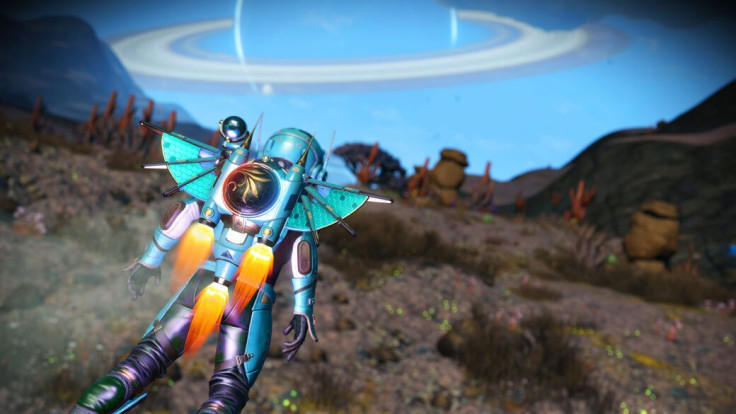 New Technologies
The Sentinel update implements new technologies as well. The first is support for AMD FSR 1.0, which is a cutting-edge spatial upscaling technology that gives fast frame rates and impressive image quality if you're using a compatible GPU.
Don't worry as Nvidia users are not left out. If you are using any Nvidia RTX 2000 and RTX 3000 series, you can take advantage of the company's DLAA technology. DLAA or Deep Learning Anti-Aliasing is quite similar to DLSS, albeit without the upscaling. To put it simply, this tech uses AI to provide better anti-aliasing at native resolution. In other words, enabling this feature vastly improves in-game image quality if your GPU has enough resources to spare.
What's more, No Man's Sky has been optimized for Valve's upcoming portable gaming console, Steam Deck. Its controls and touch screen input work flawlessly. All you have to do now is wait for the actual console to be released.
Sentinel Update Highlights
Improved Combat Balance and Feel
Combat has been significantly improved to create a faster-paced, more varied, and dynamic experience

Tweaks include changes to camera settings, Sentinel health, Traveler and Sentinel weapon speeds, and fire rates, hit indicators, rumble, and camera shake
Carry More Multi-Tools
The cap on the number of Multi-Tools a Traveler can carry has been raised from three to six
Neutron Cannon
This charged energy weapon can be used both as a rapid-fire projectile launcher and also charged up to release a deadly, close-range barrage of destruction
Exomech Combat Agility
Planetary combat in the Minotaur has been significantly improved. Changes include a significantly faster turn rate, the ability to backpedal, mobility and aim enhancements, and a dedicated combat camera
No Man's Sky Sentinel update is available on PS4, PS5, Xbox One, Xbox Series X/S, and PC.