My Time at Sandrock is a fun life simulation game where you play as a builder tasked to maintain and save the titular desert town of Sandrock from economic ruin. This game features a vast open world that you can explore. Plus, it has a ton of mini-games, so you will never get bored!
Recently, developer Pathea Games launched the Knives Out update, which brought a ton of new content, including the much-awaited marriage system!
In My Time at Sandrock, you can go on a date with one of the citizens. Once you've developed a connection with someone and you're ready to go to the next stage of your relationship: you can propose to them by heading to an area at the upper right corner of the map. Be sure to purchase an Engagement Ring from the Mysterious Man before doing so.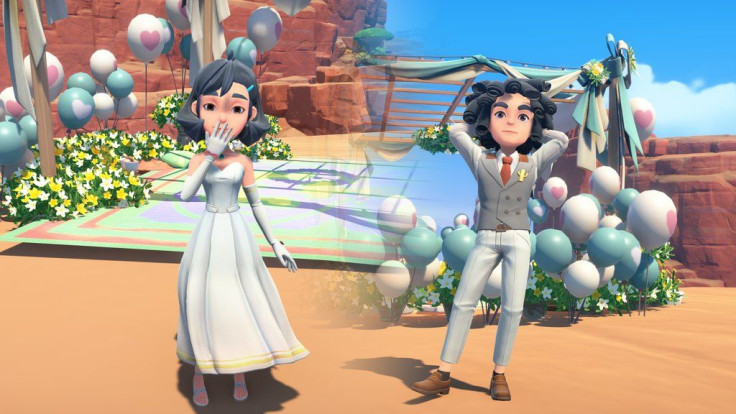 Patch Notes
NEW CONTENT
Added some main stories and side stories, the main story reaches its climax as players gradually uncover all the conspiracies

Added Arvio, Qi, Fang, Justice, Pen, Unsuur, and Catori romance quests

Added face lift stories and moved the function to Magic Mirror; Pablo's Parlor is no longer for makeovers

Added the North Mesa Plateau

Added the Double Bed, which side will you take?

Added the Auto Assemble Station, this is a giant leap for automation!

Added workshop helper function; partners offer some help after marriage, and there is another helper who never feel tired!

Added a holiday: Showdown in the HIgh Noon, and unlocked more NPCs available for sparring

Added play/date mi-ni games: Stargazing and Cable Cart

Added mole cave ore ordering system

Added a new weather: Rain

Added a special weapon, obtained in the new story.

Added the List of Yakmel Stations while riding Yakmel carts

Added mount color change, enriched the color options for Yakmels and Camels

Added the target auxiliaries for controllers, which is useful for targeting in the map UI and Treasure Detector

Added the Advanced Water Tanks and Advanced Fire Powered Generator, which can provide longer-lasting energy!

Added the advanced fish pond

Added a new haircut: curly

Added research machines. We no longer have to play hide-and-seek with Qi to submit the discs.

Added NPC behavior when visiting relics in the players' workshop

Added the ability to display the source and attributes of items in the Encyclopedia in detail
IMPROVEMENTS
Adjusted the amount of salt sold in the shop

Adjusted the action value and favorability of the play/date mini-games

Optimized the objects selection in home editing, and the dragging method has also been added

Optimized the showroom input method

Optimized the Refiner and it can find equipped gear now

Optimized mount training performance
So, are you ready to get married in My Time at Sandrock?