According to a job posting on the Blizzard website, it looks like a new mobile game is in development. The real question is, can Blizzard repeat the success of Hearthstone? Seeing how they've controlled the PC gaming scene for so long, I wouldn't be surprised.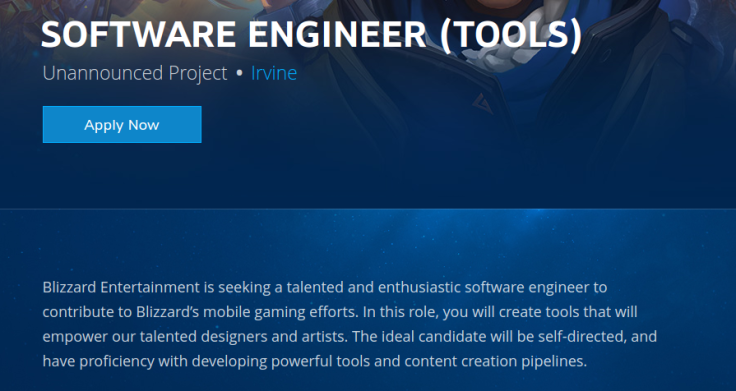 As noted on the job listing, Blizzard is hiring a software engineer for an unannounced project. The job description also heavily mentions the fact that this position would be for developing a new mobile game. Of course, no other details about the game were mentioned in the listing, but we do have a few clues about what could be coming.
According to an interview with VentureBeat, Blizzard senior vice president Frank Pearce said " "If you look at Overwatch, if you look at StarCraft, we have multiple franchises that would lend themselves to that [mobile gaming] concept." Pearce continued, strongly hinting that a StarCraft mobile game could be in the works.
"[StarCraft II expansion] Legacy of the Void is great. [But] I don't think that people want to sit down and play 45 minute missions any more. I think that [real-time strategy] space might need some reinventing," he said.
Blizzard president Michael Morhaime, also speaking to VentureBeat, agreed. "I feel like there's still a big opportunity in mobile beyond just casual games," he said. "I'm not sure we've figured out what that is yet."
To summarize, The Blizzard president thinks there's room for hardcore games to grow on mobile devices. The senior vice president thinks the real-time strategy genre needs a facelift, and also thinks that StarCraft would work on mobile. From our perspective, this all sure seems to point to a StarCraft RTS game for mobile devices.
However, this could also be a case of looking at things a little too closely. If Blizzard wants to capitalize on the popularity and success of Overwatch, now would be the time to strike. Heck, this could even be some kind of Overwatch mobile RTS, which if you think about it, would be really cool to play.
It should be noted that this is still just speculation until Blizzard makes any official statements. If the company is only now hiring for the game, it's likely an announcement will be a good long while from now.
So what do you think? Would you like to see a StarCraft mobile game for hardcore gamers? Would you rather see some kind of Overwatch game? Let us know your thoughts in the comments section below.