A lot of good things are added to the fantasy MMORPG MIR4 via the latest update, most notably the new relic system.
What Is It?
The new relic system is introduced in the latest update for MIR4; relics become available to you once you reach Level 90. They provide you with four stat bonuses depending on which one you use. There are five relics in total:
Unicorn Lion Relic

Vermilion Bird Relic

Black Tortoise Relic

White Tiger Relic

Blue Dragon Relic
Now, relics have five levels of blessing and 10 upgrade stages. The blessing level is increased every two upgrade stages, which means that you get Level 1 blessing on Stage 2, Level 2 blessing on Stage 4, and so on. Keep in mind that upgrading them is not cheap. For instance, upgrading the Unicorn Lion Relic to Stage 2 requires five enhancement stones, one Divine Oil of Blessing, one Unicorn Lion's Tribute, and a UC Dragon Leather. On top of that, you'll need 200,000 darksteel to start the enhancement process. Once the upgrade is complete, one of the relic's four fixed stats will be randomly increased.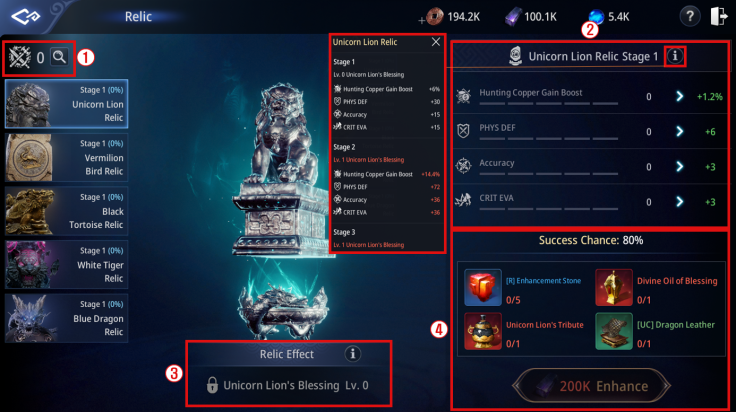 The other things implemented in this patch can be found below:
RECLAIMING CONTROL
The amount of Darksteel Generation will be adjusted for each Hidden Valley.

Bicheon Valley: Decreased by 50%

Snake Pit valley: Decreased by 20%

Red Moon Valley: Increased by 70%

Darksteel Gain will be influenced by the level of Mine in Conquest.

Darksteel gain will be decreased. However, Darksteel Gain Boost will be increased following the increase of the level of Mine in Conquest.
NEW FEATURE: BRAG
The Brag feature will be available for XDRACO Collectibles with "Limited" properties.

Brag your items to display them and obtain Admiration points from others who admire your item.

Summoner

The Summoner can Brag about their Collectibles to display them.

Brag will be available only in village areas with no monsters. (Bicheon Castle, Arcadia Spirit Village, Spiritual Center, Sabuk Castle)

The maximum number of brag items per character is 5. Brag is unavailable when there are more than 50 brag items in the same area.

When bragging, the item will appear in front of the summoner and disappear after a set amount of time.

The Summoner can get Admiration Points from other characters that admire their items.

The maximum daily limit for Admiration Point Gain is 100. Brag will still be available after the limit is reached.
The full patch notes can be found on Steam.
MIR4 is available on Android and PC.