If you were looking for a reason to play Metro Exodus again, well, here it is. The previously announced PC Enhanced Edition is just around the corner. The developer of Metro Exodus, 4A Games, announced today that the new edition will release worldwide on May 6.
What's New
PC Enhanced Edition completely reworks how ray tracing runs in the game. The update introduces Advanced Ray Traced Reflections and also brings DLSS 2.0 support. That's not all though as the existing Ray Traced Global Illumination tech has also been drastically improved. If you are interested in the technical aspect of the update, then we highly recommend that you check out the recently released analysis video.
New System Requirements
As it was previously revealed, the Enhanced Edition will require more horsepower than the original version. The developer has released the new system requirements of the game, and oh boy, are they high. You should be good if you were able to grab the latest graphic cards. Check out the new requirements in the image below.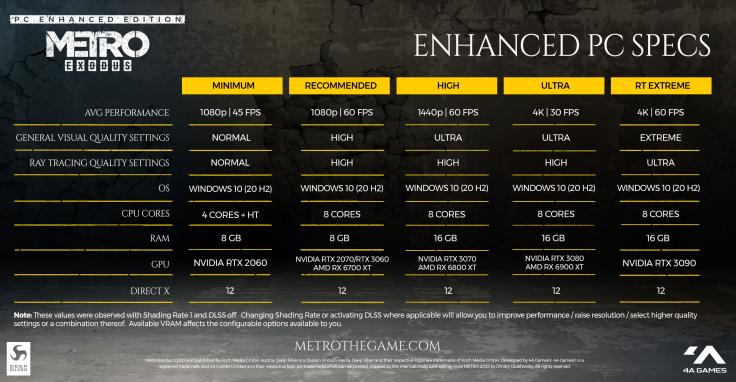 This massive visual upgrade to the game is completely free if you own the base game. It doesn't matter from which digital storefront you purchased the game. As the upgrade is so extensive, the developer has decided to make it optional. You can select which edition of the game you want to purchase. This is good news as not everyone has the hardware that supports ray tracing.
The update is quite massive in size too:
Base Game: 72.2 GB
The Two Colonels: 1 GB
Sam's Story: 6.4 GB
Total: 80 GB
If you have any more questions about the PC Enhanced Edition, then feel free to visit the official site. The system requirements of the new and old versions are mentioned here.
Metro Exodus is currently available on PC, Xbox One, PlayStation 4, Google Stadia, and Amazon Luna. The next-gen version of the game is planned for Xbox Series X|S and PlayStation 5, which should release later this year. Linux and macOS versions of the game were also recently released.
So what do you think? Are you interested in Metro Exodus PC Enhanced Edition? Do you have the hardware to play the game in all its glory? Let us know your thoughts in the comments section below.