A new game mode is arriving soon in Hearthstone and is set to offer players a new way to play. It has players collect Mercenaries and assemble Parties to bring down Bounties. The Mercenaries mode is launching on October 12. Today, we take a quick look into the mechanics of this new mode.
The Village
Here, players can do a lot of things like being able to manage their collection, collect task rewards, and go on Bounties. This central hub is not "static," so to speak. It also offers gameplay and even a progression system. Some of the things players can perform include building and upgrading buildings to unlock more content.
Go After Bounties
The Bounty Board is where players can choose the Bounty that they want to go after. This is a major part of the experience and is important to level up the Mercenaries. This is also important for those planning for some PVP.
Each Bounty has a suggested level along with a designated Bounty Boss. When going after these Bounties, players won't be using cards like in the main Hearthstone game. Instead, they're going to be the actual Mercenaries like what's shown below: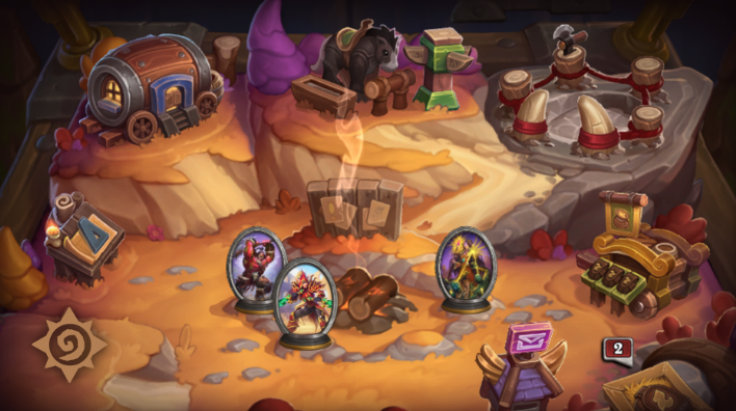 Players can form a party composed of up to six Mercenaries. Only three will be involved in combat while the other three will serve as reinforcements and join the battle when one of those in combat fails.
At launch, players immediately get access to eight Mercenaries, which are:
Rokara
Tyrande Whisperwind
Blademaster Samuro
Xyrella
Millhouse Manastorm
Cariel Roame
Cornelius Roame
Grommash Hellscream
The Lord of Terror and Two Others
When Mercenaries go live, it's going to introduce the Lord of Terror himself, Diablo. He's not arriving alone since two other characters are coming as well and like Diablo, they have their own bundle. These are:
Diablo Mercenaries Pre-Purchase Bundle ($49.99)

Diamond Legendary Diablo Mercenary Card
50 Mercenaries Packs

Lich King Mercenaries Pre-Purchase Bundle ($49.99)

Diamond Legendary Lich King Mercenary Card
50 Mercenaries Packs

Sylvanas Mercenaries Bundle ($29.99)

Golden Legendary Sylvanas Mercenary Card
30 Mercenaries Packs
Learn more about the new Mercenaries mode here.
Hearthstone is a free-to-play online digital collectible card game released on PC, Android, and iOS.