There are plenty of really interesting missions in Mass Effect: Andromeda that will end up asking players to make a choice. One of those missions include The Lost Scout on the planet Voeld. Here's a guide for the mission below:
At the entrance to the angaran Resistance base on Voeld, you'll notice Haana, who is desperately asking you to help her find her friend Mashal. Mashal is an explosives expert who was left behind at an enemy kett ammo depot and may have been trapped in rubble after the kett depot was destroyed. Haana believes her friend is still alive and asks if you can go back to find her.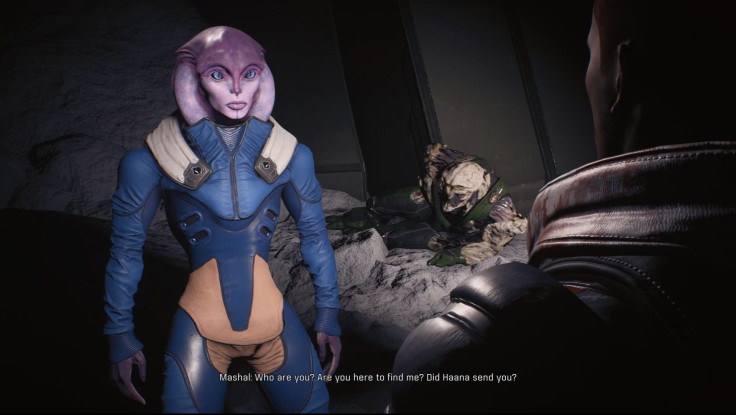 READ: How to solve Elaaden Monolith / Vault puzzles
Your first task is to investigate the ruins, which will be indicated with a navpoint that will direct you to the snow-covered mountainside. From the base, you can make your way to the Hjara Forward Station to grab a Nomad first. When you arrive at the navpoint, you'll notice glowing orange lights from many small fires.
Once you exit the Nomad, start scanning whatever's left of what was once the Kett Ammo Depot. Be sure to make a pass around the large structural platform as well as all the portable heating elements left by the kett. The heating elements sort of act like breadcrumbs, with the last heating element marks the entrance to the facility.
Once inside the depot, you'll find there's two doors. When you scan them, you'll notice the door on the right is locked, but also hear that there are survivors on the other side of it. Head into the next room to find the unlocked door.
As you walk further into the depot ruin, you'll find a breaking wall on the left that leads to a small room. Bash through the wall with the omni-blade to enter and find a console that restores power to the depot. Once successfully restored, this should unlock the door in the first room. Note that the small room also features a second console in the back-right corner – it is booby-trapped and will light you up with a flamethrower, so don't bother.
Return to the door on the right, which was initially locked, in the first room. You'll find Mashal there alive and will, accompanied by a poor kett that she's been torturing since. You're left with a choice to either bring Mashal back or allow her to continue entertaining herself with the miserable kett.
You'll have a choice to bring Mashal back to Haana or let her continue with her unfinished business with the kett.
For a gameplay guide of the Mass Effect: Andromeda The Lost Scout mission, be sure to check out this video from YouTuber Paranoia's Dungeon:
How did you like The Lost Scout mission in Mass Effect: Andromeda. Share your thoughts in the comment section below: