A new market update is now available for Marvel's Avengers that includes Black Widow's movie-inspired costume, as well as a shirtless Captain America.
Besides her famous white costume from the movie, you can also get the Volcanic Outfit Set for various heroes, including Thor, the Incredible Hulk, and Hawkeye.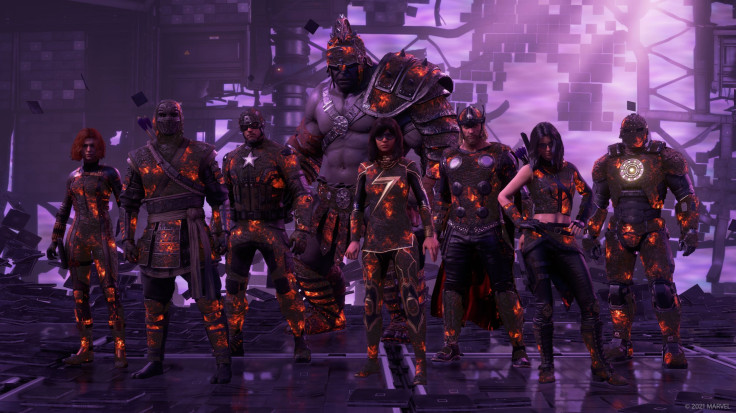 Feeling the summer heat yet? Well, might as well embrace it with Captain America's "American Dream" Outfit.
All of the new costumes can be purchased from the in-game marketplace.
New Challenges
Aside from new costumes, players can expect new challenges that will provide some lofty rewards.
For instance, there is a community challenge exclusive to all PlayStation users where players would have to team up with others to defeat 1,250,000 Adaptoids. The reward is 500 Units, which is quite enticing since players can purchase much new stuff with it.
Two new priority missions can be completed that award players with some Epic Gear, which cannot be found anywhere else in the game.
The first priority mission is called "In Honor's Name" and it requires a minimum power level of 25 with a +3 Power Level offset. Certain modifiers are added to make it even more challenging, such as the Pressure, Torpedo, and Snowball.
The second priority mission is the "Agony and the Anthill." This requires a high power level of 120 with a +5 Power level offset. Players should definitely put on their A-game since modifiers like Resurgence, Famine, Maelstrom, and Helix are present. Completing this particular priority mission gives players the Polychoron and Hero-specific gear.
There is also the Mega Hive, which is a single-player campaign that tests the player's mettle against a chain of four missions. Players need only complete the Mega Hive mission chain once until it resets the following week.
Mega Hives have rewards like basic gear and resources for better gear and artifacts. The closer you are to completing the four missions, the better your chances of getting patterns and nameplates.
Bug Fixes
Patch v1.8.1 provides plenty of bug fixes. Here are some highlights:
REASSEMBLE CAMPAIGN AND AVENGERS INITIATIVE
The Vault Onboarding mission now properly updates after completing a SHIELD Cache.

Players no longer automatically swap to Hulk when choosing To Find Olympia from the Avengers Initiative War Table during Kamala's portion of the level.
USER INTERFACE
The "Back in the Game" buff no longer appears when switching characters.

Mission tooltips for the Mega Hive now correctly mention that only 4 Heroic Gauntlets need to be completed instead of 8.

A snippet of code no longer appears in the tooltip of the Red Room Uniform.

A snippet of code no longer appears in the description of the Hero's Catalyst: 1 Day.
COMBAT
Players can no longer use the Void Tech Transponder to shrink Monica in Beating the Odds.
So, what are your thoughts about the new costumes and challenges that were introduced into the game?