Whether you like it or not, Nintendo is looking to re-introduce players to some games and franchises that were forgotten on the Wii U by bringing them to the Nintendo Switch, and Mario Kart 8 Deluxe is just that sort of title.
Billed as a sort of "ultimate edition" of Mario Kart 8 that includes all of the DLC and updates, Mario Kart 8 Deluxe brings along everything great about the Wii U version while also adding some new elements to offer something fresh for those looking to jump in their karts for the Nintendo Switch.
But being essentially a port of the Wii U game, does Mario Kart 8 Deluxe offer enough to warrant a possible second purchase? And will newcomers enjoy this addition to the Mario Kart franchise?
The answer to both questions, in short, is yes. Mario Kart 8 for the Wii U was arguably the first must-own title for that console, and everything that made it great comes over to the Nintendo Switch with updated graphics and the ability for owners to do some racing on-the-go, while new added features give more depth to gameplay.
GAMEPLAY/CONTROLS
The controls are just as slick on the Nintendo Switch no matter how you are playing, whether handheld or on your television. However, if you're playing with a friend in local play and using each half of the Joy-Con, your hands/fingers may become a bit cramped after extended use.
But again, the controls are easy to grasp for anyone jumping into Mario Kart for the first time, and veteran players will appreciate having the controls remain the same while certain aspects of racing in Mario Kart 8 Deluxe (like the ability to carry two items) have changed. The Joy-Con motion controls work fine but we suggest turning that off if you want to get the most out of your turns and driving.
The deeper-than-you-expect strategy behind choosing your kart parts and how you race can be a bit eye-opening for newcomers, but if you have been playing the franchise since Mario Kart 7 it should all seem familiar.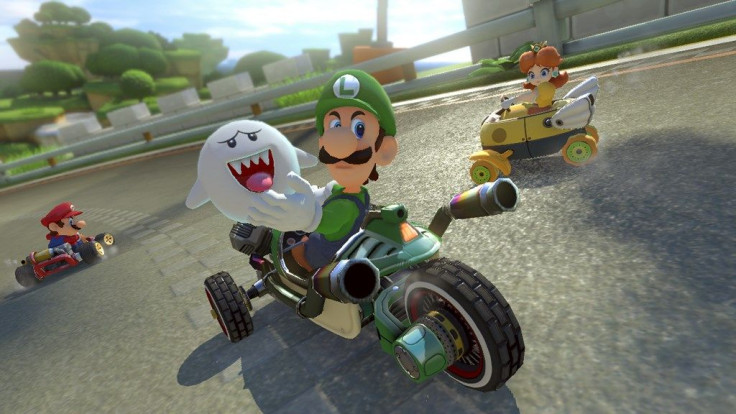 With so many options and combinations, players will have a fun time mixing and matching until they find the perfect combination that works for them.
WHAT'S NEW
As for the new additions in Mario Kart 8 Deluxe, each one elevates what was already an excellent gameplay experience. Having each kart carry two items at one time is a bigger deal than you might expect. It gives drivers more of a chance to get just the right item to pass other racers. This also allows for the lead kart to get more ammo to defend against all sorts of shells that may be coming their way.
It's a tricky balance that Nintendo is playing with but I feel it works well enough that those playing defense aren't insurmountable.
By far, the biggest addition is bringing back Battle Mode. Left out of the Wii U version, Battle Mode returns in all its balloon-bursting glory, giving players something more to do than just racing over and over.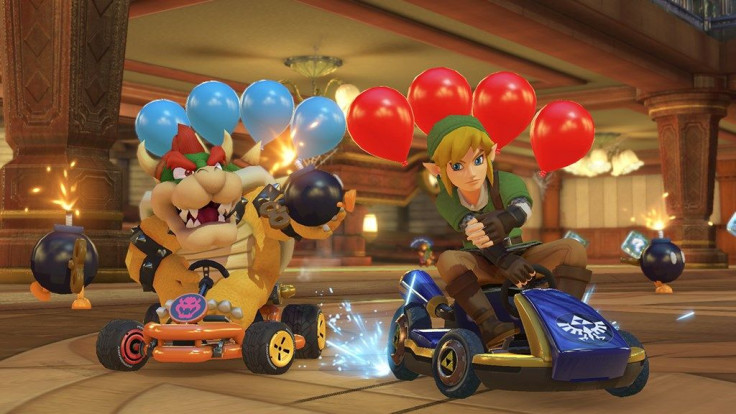 This is especially fun when you're playing with friends locally or even online. It is better, however, to play a round with as many players as possible, because the battle stages are so large that a kart that has the lead can play keep away and avoid you as much as possible.
Speaking of playing online, I got to play a few rounds of both racing and battle mode with a friend and there were no problems whatsoever. Now, this may be because having an early copy means fewer people on Nintendo's servers, but as someone who has tried playing online using Nintendo's internet service in the past and frequently had to deal with lag or connection issues, this was a smooth experience.
VERDICT
Mario Kart 8 Deluxe is an amazing addition to the Nintendo Switch library. Anyone who missed out on the Wii U version will want to experience the best version of Mario Kart yet, and having it on the Nintendo Switch allows players to scratch that Mario Kart itch wherever they are. The resolution and graphical bump the Switch gives also makes this game a treat to look at.
If you owned/played Mario Kart 8 before, the Deluxe version has enough new features to warrant another buy. Battle Mode alone is a great addition that adds a whole new level of strategy while offering hours more of gameplay whether you're playing alone or with friends.
A large roster of characters, kart options and stages makes Mario Kart 8 Deluxe feel huge and worth the time whether you're a Mario Kart fan or not.
When you're done playing Breath of the Wild, Mario Kart 8 Deluxe is the next must-own game for the Switch.
Mario Kart 8 Deluxe releases April 28.