Love Nikki Dress Up Queen released to players globally last summer and since then has established itself as a favorite for fashion game lovers and otome fans. Despite the game looking like a lot of fluff, there's a surprising amount of depth to it. While the tutorial does a good job of introducing you to different aspects of gameplay, if you are a newbie, some of the features may be overwhelming. In this guide, we've put together a basic overview of the game, along with our own personal tips and tricks for making quick progress and top scores in the Stylist Arena, Chapter Quests and more.
Love Nikki Dress Up Queen Beginner Guide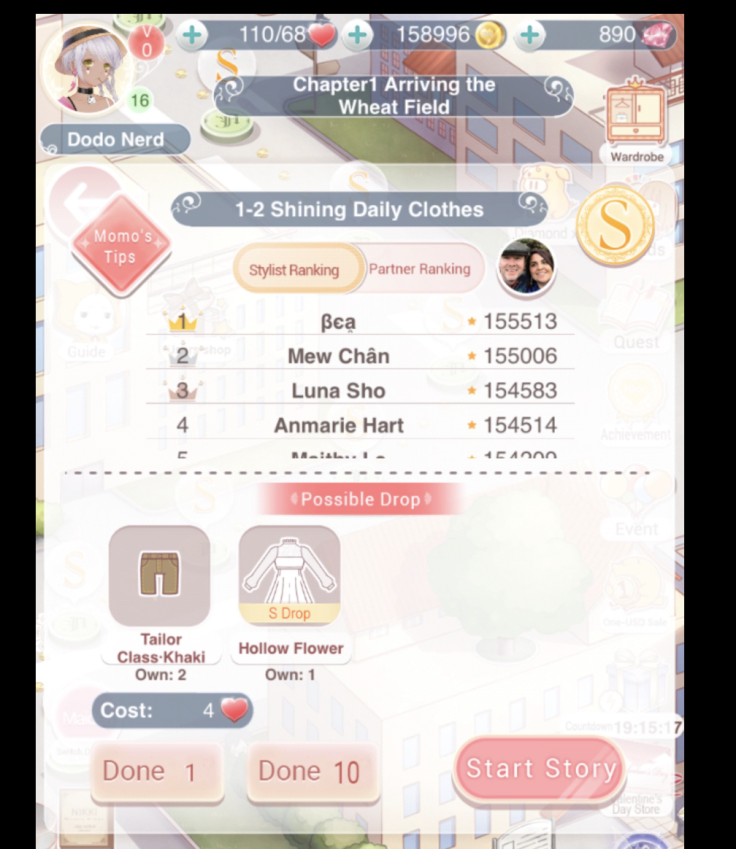 Tip #1: Focus On The Story
As with most free-to-play games, there's a certain amount of grinding required to obtain game goodies -- in this case, clothing items, accessories and suits. While you might be tempted to jump all in with the events and challenges you can, as a beginner, your time is best spent focusing on the Journey or story chapters. These chapters are not only fun, but also offer a ton of rewards in terms of clothes, coins, diamonds and more. In the early game, your main job is to build up a good wardrobe to be ready to take on challenges in the Stylist arena and weekly themed competition. Here are some tips for getting the most out of the story mode.
Shoot For S Scores l - Each chapter consists of a group of story pieces, accompanied by a dress-up challenge. Players must put together a higher scoring outfit than their story challenger to move on to the next step in the journey. When a challenge is completed players will receive one of four scores: F, B, A or S. S is the highest grade you can receive. If you finish all the challenges in a chapter but haven't reached an S on each one, it's a good idea to go back and try those again. S scores are important for a number of reasons. First, some clothing drop chances require an S score to get them. If you don't achieve an S score, you eliminate your chances of receiving some free clothes. Additionally, some chapters have extra side stories that unlock when you complete a certain number of S score with even more free clothes and goodies to unlock. If you just can't seem to get an S score on a particular chapter challenge, it may mean you don't have the clothes needed yet. Just keep those challenges in mind to return to whenever you think you are ready.

Tips For Getting S Scores - There are a few things you can do to help you reach more S scores. First off, pay attention to the story challenge words. You can review these by hitting the "Tips" menu at the top of your dress up screen once you've started the challenge. Once you know your keywords, you can search your wardrobe for items that match. Once you've beaten the first couple of chapters, you'll also see a new "Momo's Reminders" feature appear. Tapping this will show you items Momo recommends for getting an S Score. If you follow these exactly, you are guaranteed an S score. Momo's reminders are only available in Maiden mode but are a great way to learn about styling a winning costume.

Repeat Story Challenges To Get All Drops - Every story in a chapter features at least two clothing item or accessory drops. You can tap on a completed story to see how many of the drop items you've acquired. If you haven't gotten all the items from a story, it's a good idea to run it again until you get all the drop items. You can do an instant run by tapping on a story chapter and then pressing the "Done" button. This will just give you your drop item. You can press the done button as many times as needed until you get all the drop items. If you are stuck inside a chapter and not making a lot of progress, this is a good activity to do to gain more clothes and resources.
Tip #2: Login Daily And Complete Quests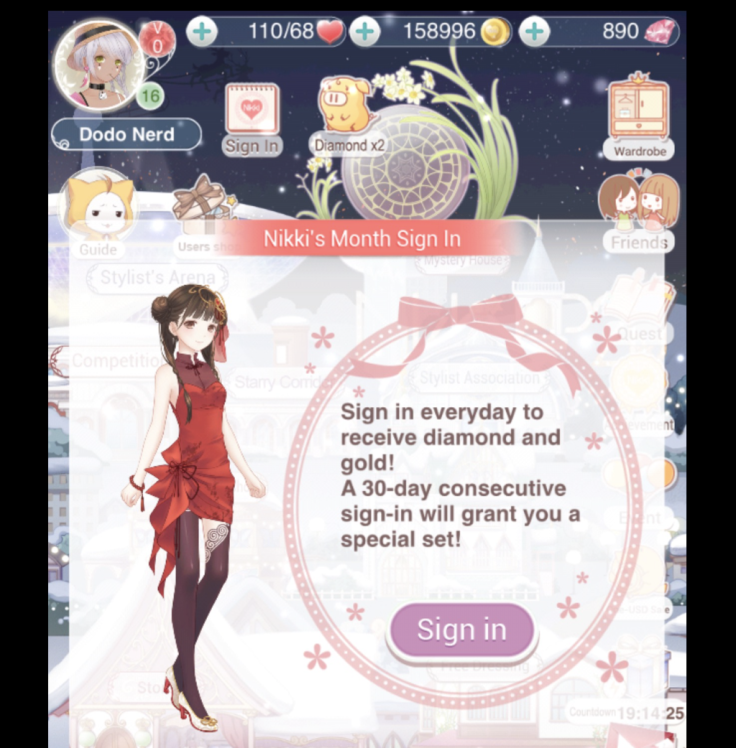 When it comes time for events, one of your most prized resources will be diamonds. If you don't want to break your bank, the best way to stockpile diamonds and coins is to log in daily and complete the Daily Quests. There are nearly 20 daily quests you can complete that reward you with everything from stamina, to coins, diamonds, stars and more. You can check out what your daily quests are by tapping on the Quest icon on the home screen. Even if you don't have time to play each day, Love Nikki offers some generous rewards for just logging in. You can earn sign in rewards in the following locations:
Sign In - on the home screen you'll see a "Sign In" icon. Here you can gather a daily prize of clothing, coins, diamonds and more.

Event - This tab includes limited and long-term events. A couple of the long-term events include suit pieces you win each day for logging in. Additionally, if you log in during 7-9 a.m. ET or 2 - 5 p.m. ET, you can claim an extra stamina reward.

Mystery House - There are several pavilions in the Mystery House. The Pavilion of Fantasy and Pavilion of Mystery both offer daily clothing drops you can claim from free. Additional pavilions in the Mystery House have free drops after a certain number of days,
Tip #3 - Decompose Carefully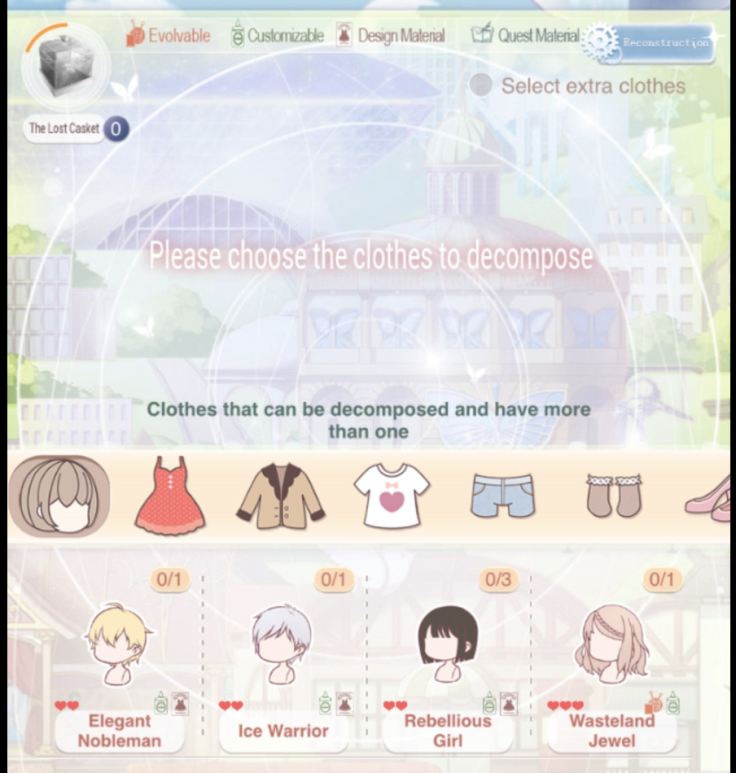 Most beginners really don't need to mess with the Recipe House much, unless a particular chapter challenge calls for it. Until you have a good handle on the game, the only function of the Recipe Workshop I'd regularly use is Decompose. Here's how to get the most out of that feature and not lose valuable items.
Open the Recipe House and choose the Decompose feature

At the top of the screen you'll see a key with the following icons: Evolvable, Customizable, Design Material and Quest Material. If a clothing item has ANY of these icons on it, avoid decomposing.

Decompose any clothing item that does not have icons on it. By decomposing, you'll earn recipe materials, coins and sometimes special accessories.

Once you've decomposed 100 items, you'll be able to open the Lost Casket and receive gold, dyes, evolvable clothing items and more.
Tip #4 - Add Friends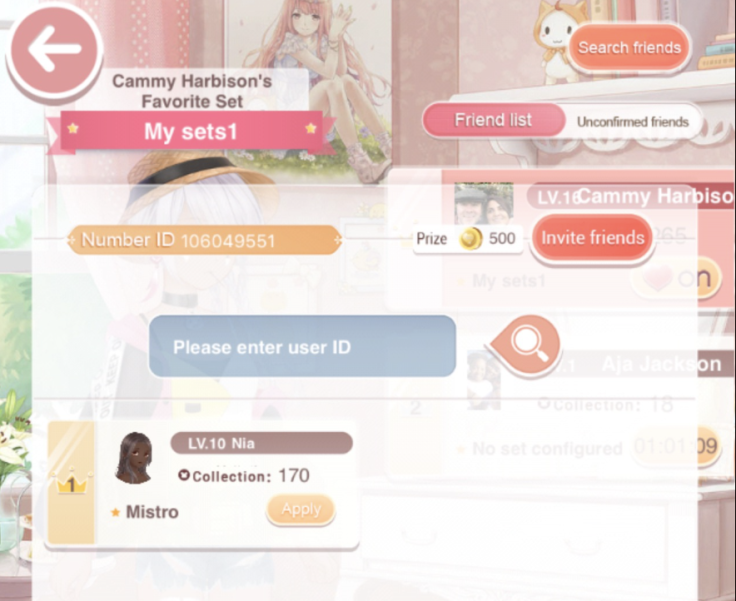 Adding friends brings a lot of perks likes daily stamina boosts, help fulfilling daily quests and even special suits if you manage to add 60 friends. There are a number of places online where you can find active player codes (Here's a free one: 106049551). To add friends, simply tap on the Friends icon and at the top right-hand side of the screen, tap "Search Friends." Sometimes the game will suggest friends for you, or you can enter a friend code and click "apply" to send a request. Sometimes it takes people a little while to add you but it's worth the effort.
Tip #5 - Use Momo's Help In Stylist Arena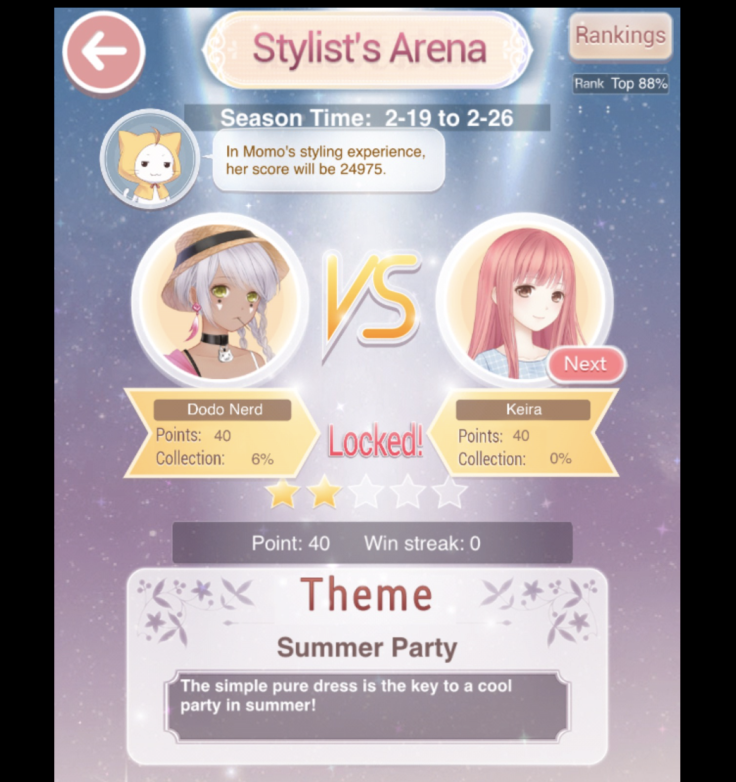 One of the Daily Activities you can participate in is the Stylist Arena. This arena allows you to compete against other another player. You are given a particular theme with keyword hints. Once you've played a theme before, it's a good idea to note down the outfit you used and the score you got. If you do this, then next time you are given that theme, you will already know what score your outfit will receive. When you press the "find stylist" button, Momo will tell you what that stylist's estimated score will be. If it's higher than yours, just go out of the challenge and try for a different stylist until you find one whose estimated score is lower than yours. In time, this strategy will help you win more streaks. We will soon be putting together a guide of attributes judged in each Stylist Arena theme to help you put together a winning outfit, so keep an eye out for that.​