Yesterday, Marvel dropped the first official Iron Fist trailer and today, the spotlight is all on Colleen Wing. My colleague and I had a chance to see this clip at New York Comic Con back in October, along with four others, but this version is a little different.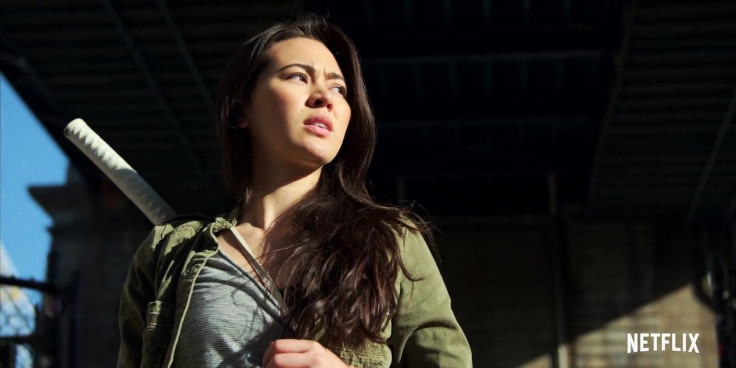 Dressed in all white, she enters a closed fighting cage with two huge men. From there on out, it's all mayhem. It seems Colleen is way more aggressive than Danny has been in previous footage, but it could just be the circumstances. The version from NYCC proved Colleen doesn't mind getting her hands dirty. It wasn't shown in this clip, but after she punches that dude in the face, she casually wipes the blood from her fingers onto her white windbreaker. All I remember hearing is the impact of her hits cracking bones and a bunch of extended "ooohs" from the audience.
Photos from last week showed Danny visiting Colleen Wing's martial arts studio, where she presumably also becomes acquainted with Claire Temple. Another shows the three of them on a stakeout. Wing is a skilled investigator and martial arts expert, but has no superhuman abilities. She'll be the female lead in Iron Fist and is described as "an invaluable ally to Iron Fist as he returns to his life in New York."
In the comics, Colleen Wing is a close friend of both Misty Knight and Iron Fist. Knight was introduced in Luke Cage earlier this year, and will also appear in Iron Fist.
The Struggle Is Not Real
If you're looking for shock value, Iron Fist does not have it. Netflix and Marvel have turned an interesting superhero into a basic bro.
Colleen Wing is a delight
The last four episodes are significantly more entertaining
Problematic character development
Lackadaisical fight scenes