Apple released its iOS 10 beta software to the public July 7, 2016. Find out how to download and install it, here.
On Thursday, Apple released the iOS 10 public beta for any iOS users to try. If you've been hoping to test out all those new iOS 10 messages features or other cool additions coming to iPhones and iPads this fall, then now is the time you can do it. Below we've included instructions for how you can download and install the new iOS 10 public beta on your iPhone, iPad or iPod. If you have any problems with the installation, just leave us a note in the comments below and we'll do our best to help you.
How To Download And Install iOS 10 Public Beta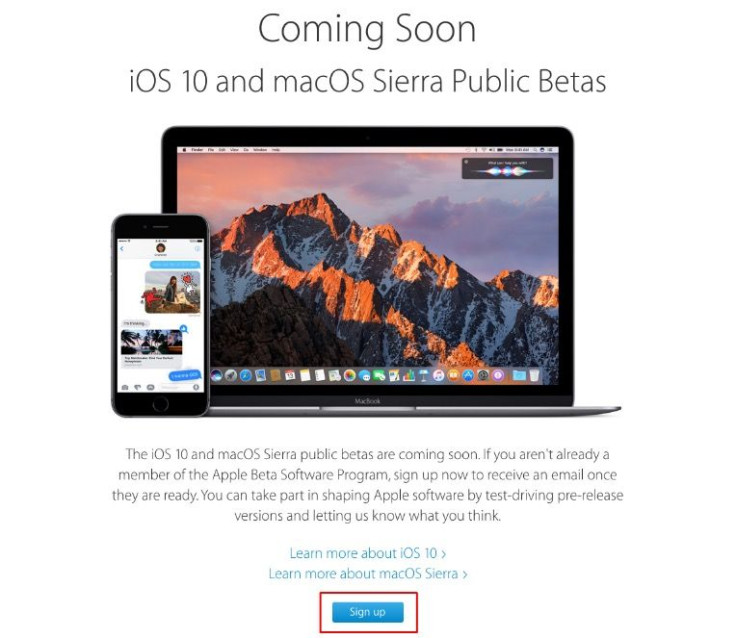 Make Sure Your Device Is Compatible – the following devices are able to download and install the iOS 10 software:
Pad 4, iPad Air 1, iPad Air 2, iPad Pro 9.7-inch, iPad Pro 12.9-inch.
iPad mini 2, iPad mini 3, iPad mini 4.
iPhone 5, iPhone 5c, iPhone 5s, iPhone 6, iPhone 6 Plus, iPhone 6s, iPhone 6s Plus, iPhone SE.
iPod touch (sixth generation)
Backup you device – betas can be buggy so, to ensure you don't lose any important data during the download, you'll need to make sure you have a backup available. Apple provides a very simple tutorial here on backing up your device.
Sign Up for Beta Program - You'll need to visit https://beta.apple.com/sp/betaprogram/ and sign in with your Apple ID in order to get access to the iOS 10 public beta. One you sign in, you'll see a button labeled "Get Started." Click on it and you'll be asked to agree to some terms. After you have, you're ready for the next step.
Download Beta Test profile – once you've backed up your device, you are ready to get going on beta testing. On your iPhone, iPad or iPod, visit beta.apple.com/profile. From there you will see a button to "Download Profile." Tap on it and follow the on-screen instructions to install.
That's it! Once the profile is installed, you'll be able to take advantage of all the cool new features iOS 10 provides. If you decide for some reason you don't want to stay on iOS 10, you can restore the most current iOS 9 software by following the instructions, here.
What's New In iOS 10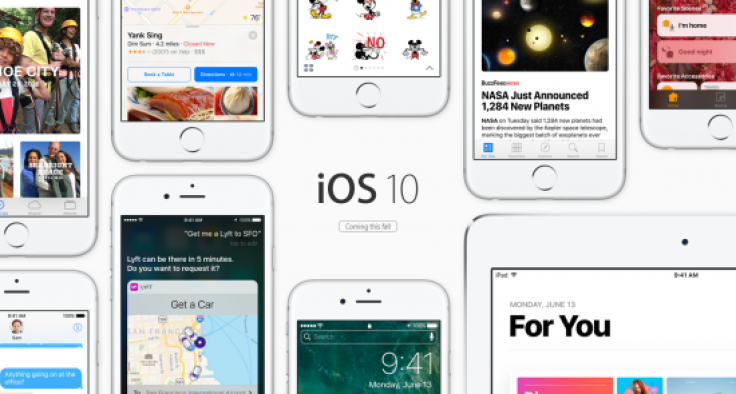 While iOS 10 isn't bringing the ground-breaking changes that we saw in some of the earlier iOS releases, the new firmware does, nonetheless, bring meaningful updates that Apple fans should enjoy. In iOS 10 beta 1 we've had the chance to test out Apple's updated Messages app, which includes bigger and better emoji, hidden ink messages, animation features, third-party apps right inside iMesssages and more. Overall, the new iMessage features make the app even more fun than ever before. In addition to iMessage changes, the Maps program got a major UI update with chunkier fonts and easy-to-use display that includes new features like pinning your current location. The lockscreen, notification center, control center and Music app also got big UI updates in the iOS 10 beta that make them cleaner and sleeker in appearance while offering more powerful options for interacting with contents via force touch as well.
Mail got some upgrades which include auto unsubscribe options and better organization for chains of related emails, as well as some smart filter options. We were also delighted to discover we could now delete a number of the little-used stock apps like iTunes, Music, Maps, Calendar and more. Inside of the Alarm clock there is now a sleep tracking mode that may help some get a better night sleep by reminding you to maintain a consistent bedtime.
What's your favorite new feature in the iOS 10 public beta? Share with us in the comments below.