New weapon variants for the Winfield M1876 Centennial rifle and Springfield M1892 Krag bolt-action rifle have been added to Hunt: Showdown in Update 1.12.
Winfield M1876 Centennial Variants
The Winfield M1876 Centennial is a sniper rifle in Hunt: Showdown best known for its large ammo capacity and considerable damage.
That said, Update 1.12 introduces two new variants for the said firearm. The "Shorty" variant offers players some flexibility in exchange for a slightly increased recoil. The "Shorty Silencer" is similar to the previous one, except that it comes with a suppressor attachment - perfect for taking out enemies silently.
Players can unlock these variants by completing the second and fourth acts of the new "The Ward of the Reptilian" questline, also introduced in Update 1.12.
Springfield M1892 Krag Variants
The Springfield M1892 Krag is a repeating bolt-action rifle that's quite popular among players due to its ease of use. The developers thought that adding a bayonet version of this weapon made sense, especially when the fast reloading speed due to its side-loading magazine is taken into account. Hence, the Springfield M1892 Krag Bayonet was born.
While the previous variant can be used to effectively fend off nearby attackers, this next one is perfect for long-range engagements. The Springfield M1892 Krag Sniper only has one distinguishing trait - a sniper scope for the rifle's barrel. Thanks to the scope, players can eliminate their prey without getting too close.
The new variants for the Springfield M1892 Krag can be unlocked by completing the first and third acts of the new "Vengeance of the Skinned" questline.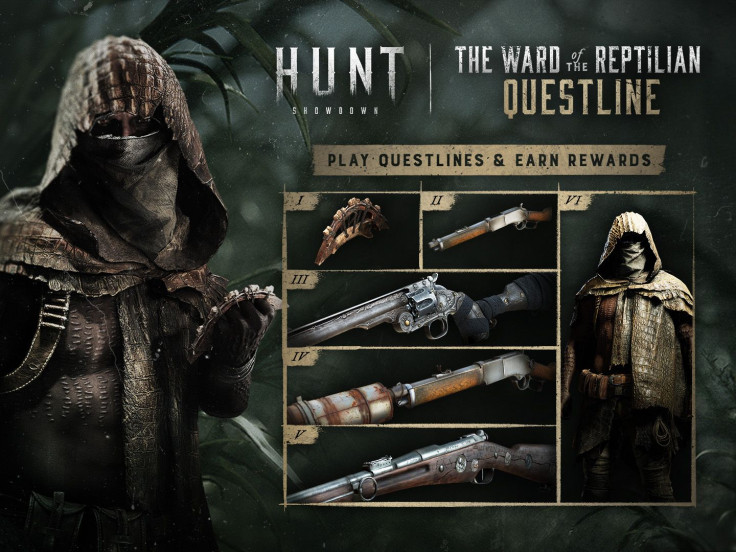 Patch Notes
WEAPON CHANGES
Lemat Carbine

There have been a couple of tweaks based on the community's feedback. Its rate of fire has been increased a bit to make it put up more of a fight. Its iron sights have been realigned so it will feel more accurate. Last but not the least, its recoil has been decreased to allow for easier follow up shots.

Hand Crossbow Choke Bolts

Slightly increased the size of the choke cloud.

Choke Bolts now have the same slightly bigger initial area effect, compared to the lasting cloud of the regular Choke Bomb.

Hand Crossbow Poison Bolts

Slightly increased the size of the poison cloud.
NEW QUESTLINES
With Update 1.12, there will be 2 new Questlines in the Bayou: "The Ward of the Reptilian" and "Vengeance of the Skinned." These Questlines offer Hunters new types of activities to pursue as well as valuable rewards to earn in 6 Acts each, such as unlocking new Weapon Variants, Legendary Equipment, and more.

Both Questlines will run for approximately 1 month each and in a sequential manner, meaning that the 2 Questlines will neither be running in parallel, nor overlapping with each other.
Hunt: Showdown Update 1.12 is available on PS4, PS5, Xbox One, Xbox Series X/S, and PC.