The October Patch for Hitman 3, also known as Update v3.130, is now available on all platforms. This massive update brings tons of new accessibility options, as well as support for two popular super sampling technologies.
Intel Xe Super Sampling, NVIDIA Deep Learning Super Sampling (DLSS), and AMD FidelityFX Super Resolution 2.1 are now supported by Hitman 3. If your PC is equipped with any supported graphics cards, then you can enable their respective technologies in the settings to boost your frame rates with very minimal visual fidelity loss.
For accessibility options, the "slow walk" button can now be set as a toggle on PC, which means that you no longer have to press and hold the key when you want to run/jog. Although not explicitly stated in the game, this setting affects the slide action on ladders and drainpipes as well.
Another useful feature added in Update v3.130 is that you can now enter item placement mode just by pressing the shoulder buttons on the controller once.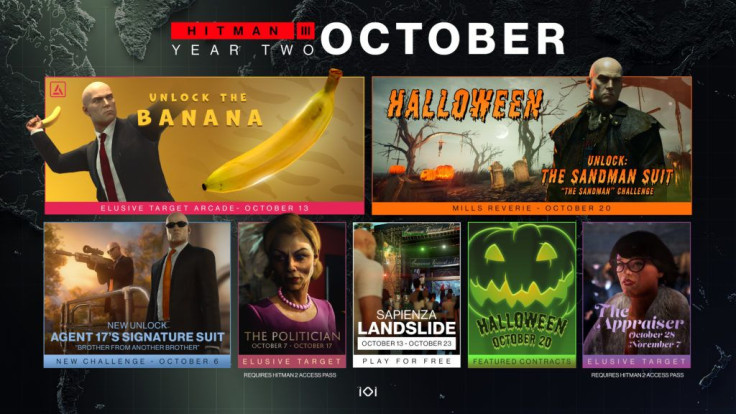 Developer IO Interactive has also revealed the October Roadmap for Hitman 3. After updating the game, you can unlock Agent 17's signature suit by completing the "Brother from Another Brother" challenge.
In addition, the fruit that everyone's been waiting for is coming to Hitman 3 on October 13, the Banana! From the looks of it, you can use the Banana to hit your enemies, giving them their daily dose of potassium!
You can read the other useful changes in the October Patch below:
STABILITY
We've resolved various issues that could cause the game to crash or be unstable in various ways.

Amongst others, we've resolved crashes that could occur when;

using certain fuse boxes while in cover

using items that require you to hold a button to activate (sinks, radios etc) and then moving

restarting, loading, replanning or exiting to the menu after pausing the game with the camera item active
ACCESSIBILITY OPTIONS
Precision Aim
Currently, on a controller, the "precision aim" function can be activated in two ways; either by half-pressing the right trigger or by holding the left bumper/shoulder button, whilst aiming. This setting only affects the left bumper, allowing it to be pressed rather than held.

Note: It is also possible to set your aiming mode to "toggle".
Arcade HUD
We've updated four Arcade complications to ensure that they always display in the HUD. If you've noticed that Lethal Melee Only, Lethal Poison Only, No Poison Kill or Explosion Kill Only complications were not showing in the HUD, they will now.
Hitman 3 Update v3.130 is available on PS4, PS5, Xbox One, Xbox Series X/S, Nintendo Switch, and PC.