Hellblade: Senua's Sacrifice, the critically acclaimed title by Ninja Theory, just received some love. The developer released a free next-gen update for the game but only available on Xbox consoles. This was expected as Ninja Theory is now owned by Microsoft. So, PlayStation players will be missing this one out. An update for the PC version is currently in development as well.
New Features
The game will now be marked as "Now Optimized for Xbox Series X|S" on the Xbox Store. The new update only brings technical improvements, so don't expect any new content. For the very first time, you can now play Hellblade with ray tracing. The update added support for DirectX ray tracing, 120 FPS mode, resolution mode, and more. Texture resolution has been bumped while particle quality and the draw distance are improved. All of this combined with a higher level of detail. A chapter select option is made available as well.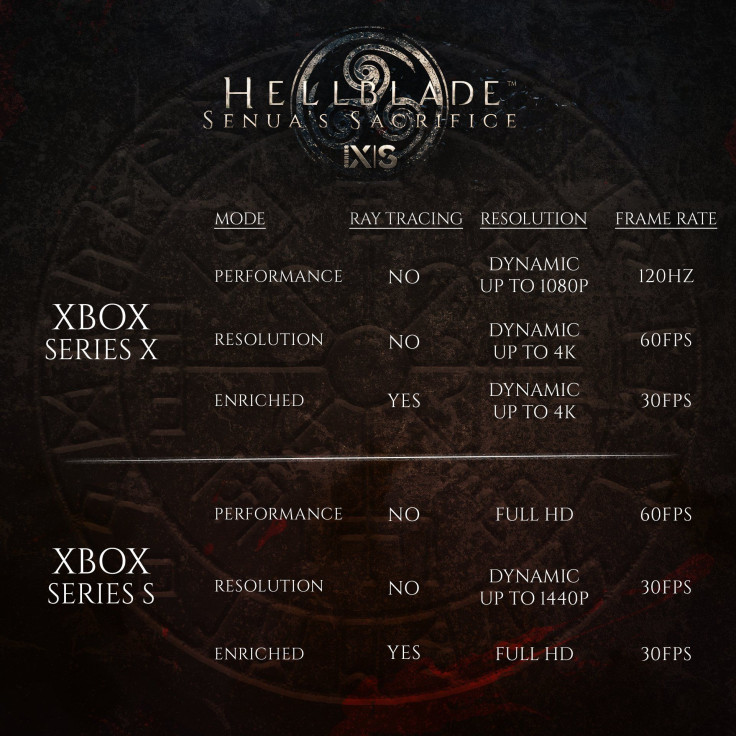 Different Modes
Xbox Series X|S now supports three modes. They are performance mode, resolution mode, and enriched mode.
For Series X, the performance mode will run the game at 120 FPS in dynamic 1080p. In resolution mode, players can enjoy dynamic 4K resolution at 60 FPS. In enriched mode, the game will run at 30 FPS at dynamic 4K resolution with DirectX ray tracing enabled.
For Series S, the performance mode will only run the game at 60 FPS at Full HD. Resolution mode will set the game resolution as dynamic 1440p at 30 FPS. In enriched mode, players can enjoy 30 FPS in Full HD with ray tracing on.
More information about the update is mentioned on the official site.
About The Game and Sequel
Hellblade: Senua's Sacrifice is a game about mental illness. The title surprised both fans and critics about how it handles such a sensitive subject. The game was so successful that it spawned a sequel, Senua's Saga: Hellblade II. The sequel is one of the first games that is being developed using Unreal Engine 5. There is no release date yet for the sequel However, it is exclusive on Xbox and PC. Once again, PS players will be sitting this one out.
So what do you think? Are you interested in the next-gen update? Are you planning to play the game again? Let us know your thoughts in the comments section below.