This week in GTA Online, everyone is invited to take to the high seas as there's going to be a perfect storm when it comes to high stakes and hijinks. Players that own yachts earn double rewards with A Superyacht Life. This include tasks from scavenging a local wreck all the way to shooting it out with Speedophiling interlopers.
Overall, there's going to be six contact missions that players can start by calling Captain Darcy on their iFruit or speaking to him in person on the bridge. The missions are:
Overboard

There's a group of pesky joyriders, who along with their buddies, look to be making a break for it. Chase them down across the waves and make sure that they sleep with the fishes.

Salvage

Strap on a rebreather and hit an underwater wreck for salvageable cargo to bring back to your yacht. It's not a crime, probably - you're practically cleaning up the oceans. Keep an eye out as you return to your vessel, though. Things may not have gone as swimmingly for Captain Darcy.

All Hands

It looks like some patrons and beneficiaries over at the Pacific Country Club need a helping hand in taking out some literal fires. Get to fly in a customized Tula over the links and the drop water bombs from above in order to get rid of the flames and save the day. The one percent is going to thank you later.

Icebreaker

The Captain has asked for help with revenge against those who wronged him. Head on over to the Fridgit warehouse and get things right.

Bon Voyage

Be prepared for a perfect storm as wave after wave of attackers armed to the teeth are likely to arrive.

D-Day

The captain is tasked with making sure that loose ends are always tied up. In this one, players get inside a Kraken sub, find the big bad's yacht and end the madness.
Players that finish a Superyacht Life Mission this week can come back the next week in order to get the Six Figure Tee.
Triple and Double Rewards
This week, the action over the Pacific continues and it is time for players to shoot it out against competition on a fast-shrinking platform in Trap Door. Kill enemies and banish them to the red zone, where they then have just seconds to make it back to safe ground before the ground disappears from under them and doom them to a watery grave. Be sure to stay alive in order to earn Triple GTA$ & RP.
Meanwhile, Transform Races are handing out double rewards for the week. There's no question this is one exciting week for everyone.
Just in case we haven't mentioned it yet, all players that log into GTA Online this week get the TW@ Logo Tee for free.
Lucky Wheel
If all the activities appear to be stressing to you out, take things slow and head on over to The Diamond Casino & Resort. Give the Lucky Wheel a spin to get the chance to win cash prizes, clothing, RP, mystery prizes, and more. The top prize this week is the Pfister 811 supercar that has literal billions of dollars' worth of research under the hood.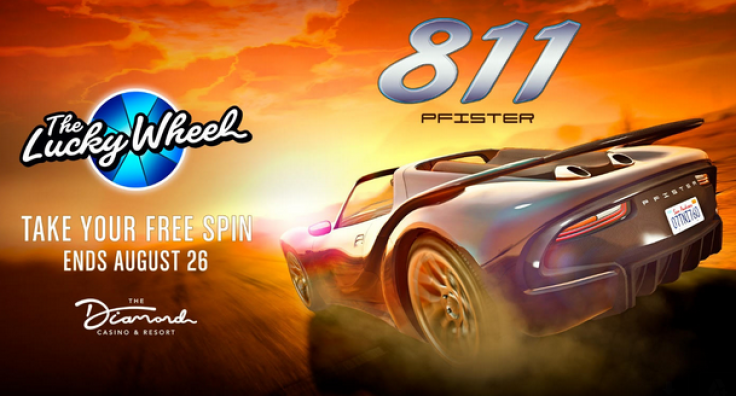 Discounts
With the theme being about the sea this week, there's a wide range of marine-based discounts and more, which include:
Yachts – 30% off
Yacht Upgrades & Modifications – 30% off
All Boats – 30% off:

Lampadati Toro
Kraken submersible
Buckingham Tug Boat
Nagasaki Dinghy
Speedophile Seashark
Pegassi Speeder
Shitzu Jetmax
Dinka Marquis
Shitzu Suntrap
Shitzu Tropic
Shitzu Squalo

Helicopters – 30% off:

Nagasaki Buzzard
Buckingham Akula
Buckingham Swift
Buckingham Swift Deluxe
Buckingham Volatus
Buckingham SuperVolito
Buckingham SuperVolito Carbon

Land Vehicles – 30% off:

Imponte Ruiner 2000
HVY APC
Principe Deveste Eight
Prime Gaming
Of course, this week's update won't be complete with the exclusive offers. These are for GTA Online players that connect their Rockstar Social Club account to their Prime Gaming account. Those who do are going to receive GTA$200K just for playing anytime within the week. In addition, Prime Gaming members get to receive:
The Vespucci Canals Nightclub Property
70% off the Grotti X80 Proto
80% off the Bravado Gauntlet Hellfire